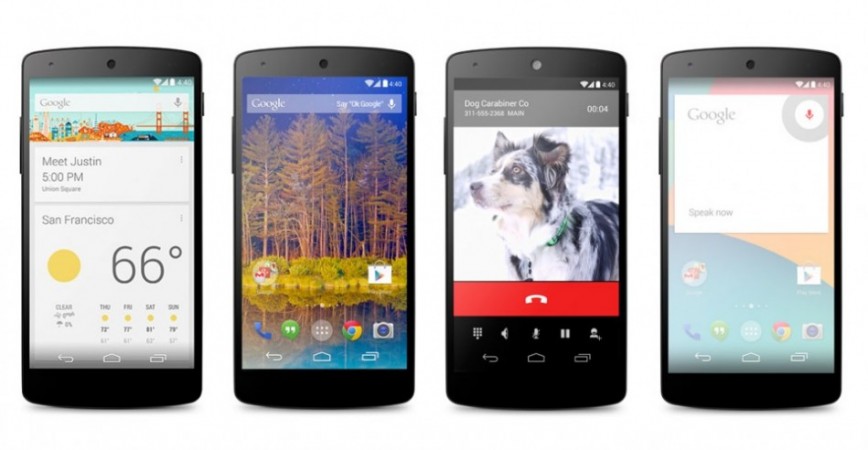 Hype around Google's upcoming flagship smartphone dubbed as Nexus 6 has gained momentum again after an executive from the company confirmed that reports of killing Nexus line to make way for new product line, Android Silver are baseless. The new device, which is expected to be released in October, will have to compete with Samsung Galaxy S5 and Apple's upcoming smartphone iPhone 6 in the market but it may survive the stiff competition for more reasons than one.
Here are major reasons why Google's Nexus 6 business may not be affected by rivals iPhone 6 and Samsung Galaxy S5:
1) Price Factor: At launch, Apple iPhone 5S was priced at $199 (₹12,700) and $399 (₹25,500) for 64GB variant with two-year contract. The unlocked iPhone 5S 16GB variant was priced $649 (₹53,500) and $849 (₹71,500) for 64GB. Even the low-cost iPhone 5C had a price tag of $549 for 16GB and $649 for 32GB variant. The device was a big turn off for many gadget lovers around the world, especially emerging markets, because of the price.
Samsung's recently released flagship smartphone, Galaxy S5 is priced at ₹51,500 ($660).
On the other hand, Google's Nexus 6 is expected to be much cheaper than iPhone 6 and Galaxy S5. The 16GB variant of Nexus 5 was priced $349 (₹28,999) and $399 (₹32,999) for 32GB at the time of launch. So, its successor is also expected to come with a reasonable price tag, which will be a huge attraction in price-sensitive markets like India and other developing countries.
2) Software Update: Devices from Google has an advantage over its counterparts from other smartphone makers, as they are always the first to receive software updates. Most Google devices arrive with a new Android, and this time too, Nexus 6 may arrive with Android L.
3) Good Word of Mouth: Apple's iPhone and Samsung's Galaxy products are well established and don't need any introduction. However, the South Korean electronics giant was criticized for failing to bring major change to its flagship smartphone. In fact, the successors of Galaxy S3 didn't live up to the expectations.
Apple Inc. also disappointed its fans with iPhone 5S and 5C, which had only a few changes from its predecessor. The upcoming device, iPhone 6 is expected to be a game-changer, coming with a 4.7-inch display, but it is to be seen if it makes a big impact.
On the other hand, Nexus devices continue to catch the attention of both critics and gadget lovers. Nexus 5 and its predecessors received good word of mouth from users, and the upcoming next-generation smartphone may benefit from that.
Google's Nexus 6 may sport a 5.2-inch full HD curved LCD display, protected by Corning Gorilla Glass, packed with 3GB RAM and come with Android L software. According to Taiwan's Economic Daily, the device might be powered by MediaTek 64-bit SoC processor, contradicting G4Games' report that it might be powered by either a "quad-core MT6732 64-bit chip that clocked at 1.5GHz, or the octa-core MT6752 SoC running at a frequency of 2.0GHz."
It was reported that the device might come with 13MP main camera and a 5MP front snapper, but Tech Cocktail claimed that the device would feature a 20MP camera with HDR mode.