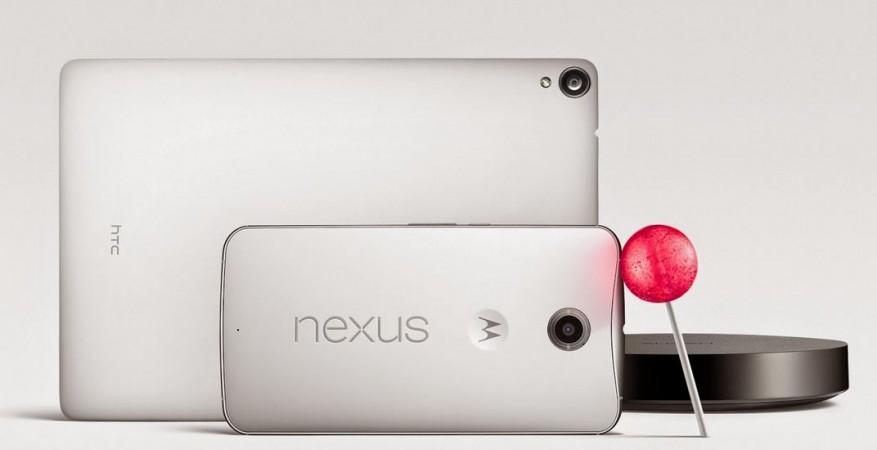 Gadget lovers waiting for the Nexus 5 price cut upon unveiling of its successor, the Nexus 6, could be in for a disappointment, as it may not happen anytime soon.
Google usually cuts the price of its current smartphone a few weeks ahead of the announcement of its flagship device but it did not do so this time around and there is no sign of new deal despite the Nexus 6 seeing the light of the day on Wednesday along with the Nexus 9.
It may be mentioned some online carriers, including eBay sold the Nexus 5 at a discounted price as low as $314.99 recently but it stopped the deal quickly, hinting that it could be a move to deplete the current stocks, as the price of the device remains the same on Google Play Store.
It looks like Google is selling the Nexus 5 with the same price tag because of the mammoth price difference of the device and its successor. The 16GB variant of Nexus 5 is priced at just $350 and the 16GB variant at $400, while the 32GB Nexus 6 is priced at $649 and $699 for the 64GB variant.
In fact, the Nexus 6 can't be even considered as the successor of the Nexus 5 as they belong to different category. The Nexus 5 is a smartphone with a 4.95-inch display, while the newly unveiled device is a phablet with a 5. 95-inch display which could have been made to take on its rivals – Apple's 5.5-inch display iPhone 6 Plus and Samsung Galaxy Note 4, which has 5.7-inch screen.
It wouldn't come as a surprise if the Nexus 5 owners stick to their devices instead of going for an upgrade, as many prefer a smaller handset to phablet that is not very comfortable to hold. Moreover, users of the handset will have a new experience when Android 5.0 Lollipop is rolled out to the device sometime next month.
Besides price and screen size difference, the Nexus 5 has good features and is still going strong despite completing its one-year cycle in a couple of weeks' time. The device sports a 4.95-inch display with 1080 x 1920 pixels (445 ppi pixel density), powered by Qualcomm MSM8974 Snapdragon 800 chipset and runs on Android OS v4.4 KitKat (upgradable to Android 5.0 Lollipop when it is rolled out). It also comes packed with 16/32 GB internal memory and 2GB RAM, Li-Po 2300 mAh battery, and an 8MP camera.
Meanwhile, Google unveiled the Motorola Nexus 6 along with the HTC Nexus 9 tablet on Wednesday after months of speculation. The company said that pre-order for the devices will begin by the end of this month before launching next month but didn't announce the exact release date.
The Nexus 6, which is considered to be the successor of the Nexus 5, sports a 5.96-inch QHD (2560x1440p) screen with 493 ppi (pixels per inch), protected by Gorilla Glass 3 shield and comes packed with 32/64GB storage capacity and 3GB RAM. It is powered by 805 series Snapdragon CPU and runs on Android 5.0 Lollipop.
The device houses a 3220 mAh battery with talk time up to 24 hours, standby time close to 250 hours (with ambient display on) and 330 hours (with ambient display off). It has a 13MP main camera with Dual-LED flash, f2.0 aperture, 4K video recording, and 2MP front camera with HD video conferencing feature. The device also has add-ons like Nano SIM, Bluetooth v4.1. Wi-Fi (802.11 ac 2x2 dual band; MIMO), NFC,micro-SUB v2.0, dual-front speakers, and Turbo Charger technology that lets user get up to six hours of use with only 15 minutes of charge.