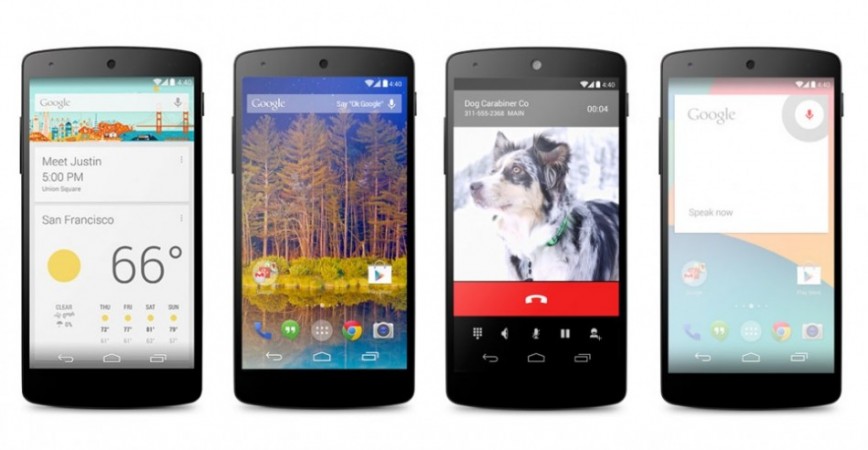 Amid speculations on the release date of Google's upcoming flagship smartphone - dubbed Nexus 6, reports are doing the rounds on which smartphone maker will supply the much-talked-about handset - LG, HTC or Motorola?
Google has not announced the release date of Nexus 6 but most reports point to an October release. The most credible news came from Sundar Pichai, VP at Google, who said at the Mobile World Congress 2014 (MWC 2014) that the device would be launched in October.
Initial reports had suggested that the new flagship device would be made by LG that produced Nexus 4 and 5, but the Korean company later hinted that they will not collaborate with Google for its new device, opening the doors wide for speculation.
Now, reports have emerged that Motorola might be working on Google's next-generation smartphone.
"Motorola may be working on another device - for now code named Shamu, that may indeed be a Nexus phone. We've received information suggesting this is the case, with just a few additional details," reported Android Police.
"The device is supposed to be targeted at major US carriers, and unspecified carriers in other parts of the world, which would probably include the markets that currently have access to Nexus devices, though this detail is still unclear," it added.
The report went on to claim that the device may sport a 5.9-inch display and might be released in November, contradicting the specifications and release date of earlier reports.
Meanwhile, HTC, which is expected to release an 8.9in tablet - codenamed Volantis - along with other devices this winter, is said to be working with Google for the upcoming Nexus series device. But the report does not hold much water as of now as neither the search giant nor the Taiwanese smartphone maker has announced or hinted on their collaboration.
Google is yet to confirm the supplier of its upcoming device, giving room for speculations.
Nexus 6 is expected to sport a 5.2-inch display with 1080x1920 pixel screen resolution and protected by Corning Gorilla Glass, according to reports. It may also have a curved LCD display with lightweight, polycarbonate body, and come packed with 32 GB internal memory and 3GB RAM. The device will come with Android L, which will be introduced in the device, and may house a 3100 mAh Li-Polymer battery. In terms of connectivity, it may boast of Wi-Fi, 4G LTE, Bluetooth 4.0, NFC and micro-USB slot, according to 91mobiles.
A report by Tech Cocktail claimed that Nexus 6 may feature a 20MP camera with HDR mode, while 91mobiles reported that it might have a 13MP main camera and a 5MP front snapper.
Nexus 6 may be powered by a 64-bit processor. Taiwan's Economic Daily reported that the device might be powered by MediaTek 64-bit SoC processor, while G4Games' reported that it might be powered by either a "quad-core MT6732 64-bit chip that clocked at 1.5GHz, or the octa-core MT6752 SoC running at a frequency of 2.0GHz."