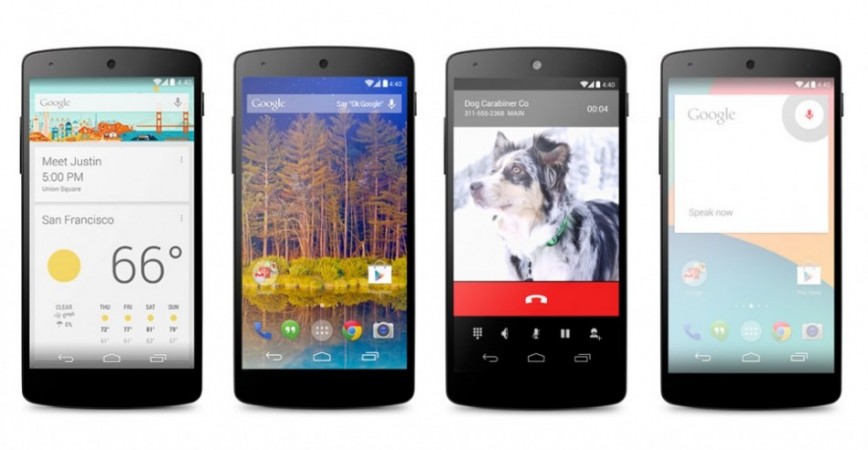 Amid speculations on the release date of Google's upcoming flagship smartphone dubbed as Nexus 6, a new report has suggested that some online retailers have cut the price of HTC One M8 by a big margin as the launch of Apple's iPhone 6 and Google's new device not far away.
A popular retailer based in the United Kingdom is selling the 16GB HTC One M8 LTE version with unlocked SIM card slot for $597, as against the original price of $649, while eBay sells the same model with 32GB storage at $669, which is cheaper by more than $50 than the original price. The unlocked HTC One M8 is priced $654 on Amazon while some third-party retailers are selling it between $600 and $650, according to a report by PopHerald.
The website went on to say that the price of HTC One M8 might dip further in the days to come with many customers waiting for the release of Nexus 6 and iPhone 6. Price of Nexus 5 is also expected to drop with the arrival of its successor.
Nexus 6 will throw a big challenge to HTC One M8 and other smartphones in the market when it is released, as it is expected to come with a reasonable price tag considering the price of its predecessor, which is $349 for 16GB and $399 for 32GB. Apple is also releasing its flagship smartphone in September but its price will be much higher than the Nexus 6.
Google's upcoming device is expected to sport a 5.2-inch full HD screen protected by Corning Gorilla Glass. DigiTimes has quoted sources from Taiwan-based supply chain makers as saying that many handset vendors may go for smartphones with 2K (2560x1440) display in the second half of the year, sparking off speculations that Nexus 6 could be one of them.
It was earlier reported that the new device might have a curved LCD display with light weight and polycarbonate body, and 1080x1920 pixel screen resolution. Taiwan's Economic Daily reported that the device will be powered by MediaTek 64-bit SoC processor, while G4Games claimed that the device may have either a "quad-core MT6732 64-bit chip that clocked at 1.5GHz, or the octa-core MT6752 SoC running at a frequency of 2.0GHz."
The device will run on Android L and come packed with 32GB internal memory and 3GB RAM. It is expected to have a 3,100 mAh Li-Polymer battery and boast of Wi-Fi, 4G LTE, Bluetooth 4.0, NFC and micro-USB connectivity slot. Reports also suggested that it may have either a 20MP camera with HDR mode or a 13MP main camera and a 5MP front snapper.
Google hasn't revealed the release date of Nexus 6 but several reports have pointed at an October release. Sundar Pichai, VP at Google, had said at the Mobile World Congress 2014 (MWC 2014) that the device would be announced in October, which is the most credible piece of information on Nexus release so far.