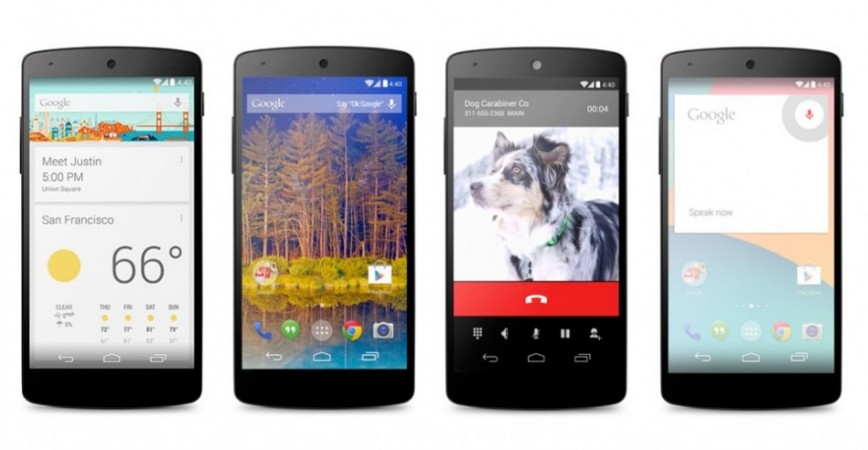 After months of speculation that Google might release its next-generation smartphone dubbed as Nexus 6 in the second half of this year, a new report has suggested that the purported device would be scrapped all together, making way for a new product line called Android Silver.
The purported Nexus 6 is not going to see the light of the day, as Google will kill the Nexus line and introduce Android Silver next year, tweeted @evleaks.
There is no Nexus 6. Farewell, Nexus. [discussion: http://t.co/dMTT3g393q]

— @evleaks (@evleaks) May 16, 2014
Don't worry, there's a silver lining to this cloud... — @evleaks (@evleaks) May 16, 2014
Android Silver, circa February 2015. [discussion: http://t.co/dMTT3g393q]

— @evleaks (@evleaks) May 17, 2014
It was reported earlier this year that Google was working with OEMs on a new device called Android Silver and that it might kill Nexus line.
However, a recent report by SmartDroid.de claimed that Nexus 6, which is likely to be based on the LG G3, and the purported 8.9-inch tablet, Nexus 8 have been confirmed in Chromium Code Review.
Several reports have claimed that Google would release Nexus 6, the successor of Nexus 5, this fall, though there were conflicting reports on it. Google VP Sundar Pichai had said at the Mobile World Congress 2014 (MWC 2014) that the device would be announced in October, contradicting report that it would be unveiled at Google's upcoming I/O Developers Conference next month.
Taiwan's Economic Daily had claimed that Nexus 6 would feature MediaTek 64-bit SoC, while G4Games reported that it was not sure whether the device would be powered by a "quad-core MT6732 64-bit chip clocked at 1.5GHz, or the octa-core MT6752 SoC running at a frequency of 2.0GHz."
It was also reported that the next-generation smartphone from Google, which would be based on LG's new flagship device G3, might sport a 5.2-inch full HD curved LCD display, protected by Corning Gorilla Glass, powered by a 64-bit version of its Snapdragon 800-series chipset with 3GB RAM and run on Android 4.5 Lollypop.
The device is also expected to be waterproof and house a 3200+ mAh battery. Tech Cocktail claimed that the device would feature a 20MP camera with HDR mode, contradicting other reports that it would have a 13MP main camera and a 5MP front snapper.