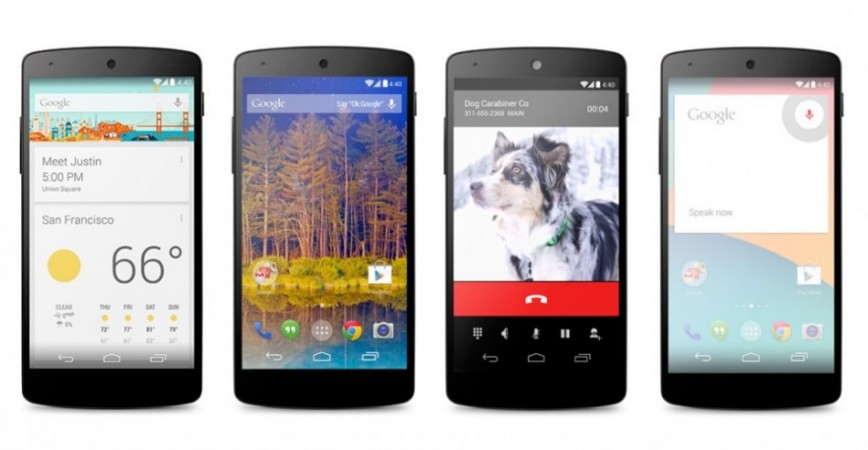 Google's upcoming flagship smartphone Nexus 6 is expected to be released in October, a few weeks after Apple unveils its much-hyped iPhone 6, and it may have some features superior to the Cupertino giant's device.
Both Apple Inc. and Google have not revealed the price of their upcoming smartphones but if the prices of the current devices are any indication, Nexus 6 will be much cheaper than iPhone 6 - perhaps just half the price. iPhone 5S 16GB variant was priced $649 (₹53,500), while 16GB variant of Nexus 5 was priced $349 (₹28,999).
Despite the price difference between the devices, Nexus 6 may still have a few features superior to iPhone 6.
1) Display Size: Google's Nexus 6 may sport a 5.2-inch full HD curved LCD display, while iPhone 6 will have a 4.7-inch display. Apple Inc. is reportedly increasing the screen size of its upcoming flagship smartphone by 0.7-inch as against the 4-inch display sported by its predecessor. But it will still be smaller that Google's device.
2) Memory: Nexus 6 is expected to pack 3GB RAM, whereas reports suggested that iPhone 6 may have only 1GB RAM as seen in its predecessor iPhone 5.
3) Camera: There are conflicting reports on the camera specifications of Nexus 6 with a section of the media reporting that it might come with a 13MP main camera and a 5MP front snapper, while Tech Cocktail claimed that the device would feature a 20MP camera with HDR mode. On the other hand, iPhone 6 is expected to have only an 8MP camera but with several upgrades including flash and Optical Image Stabilisation.
Nexus devices have been receiving praises from both critics and gadget lovers alike, and the upcoming flagship device Nexus 6 is also expected to live up to the expectations.
According to Taiwan's Economic Daily, the device might be powered by MediaTek 64-bit SoC, while G4Games reported that it might be powered by either a "quad-core MT6732 64-bit chip that clocked at 1.5GHz, or the octa-core MT6752 SoC running at a frequency of 2.0GHz."
It was earlier reported that Google had decided to kill the Nexus line to make way for a new product line called Android Silver but an executive from the company rubbished the rumors, saying that they are working on a product to be released along with Android L.
Google has not announced the release date of Nexus 6 but it is expected to see the light of the day in the fourth quarter of 2014. Sundar Pichai, VP of the company, had said at the Mobile World Congress 2014 (MWC 2014) that the device would be announced in October.