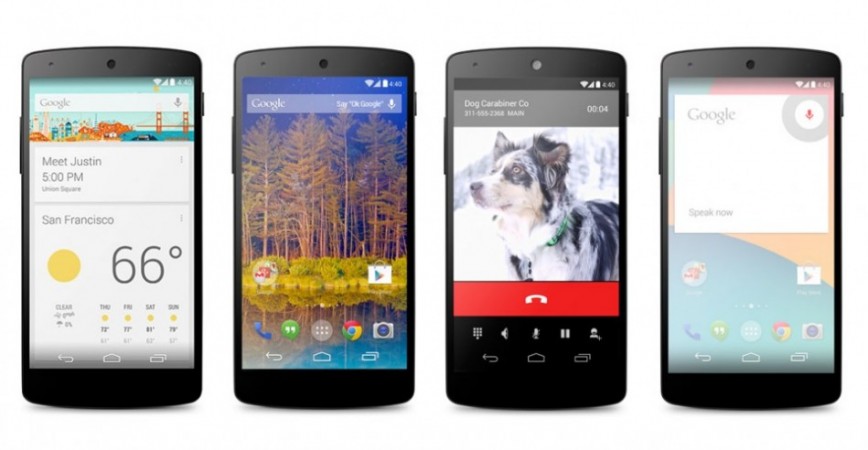 Speculations on the release date and expected specifications of Nexus 6 have been gaining momentum, though Google has been keeping mum on the device. It is expected to be unveiled in the third or last quarter of 2014 and have several upgrades over its predecessor Nexus 5.
Several reports suggested that Nexus 6 would be released after Google's I/O Developers Conference on 24 June or early July, while Google's VP Sundar Pichai had hinted at the Mobile World Congress that the device would see the light of the day only around October.
The smartphone maker has not revealed the features of its upcoming flagship device but, going by several reports which have surfaced of late, Nexus 6 is expected to have several upgrades over Nexus 5. Here are some of them:
1. Display: Nexus 6 is expected to sport a 5.2-inch full HD and curved LCD display, protected by Corning Gorilla Glass. Nexus 5 is also protected by Corning Gorilla Glass but its display is smaller - 4.95-inch full HD IPS display with 1080x1920p resolutions, having pixel density of 445 ppi (pixels per inch).
2. Processor: Nexus 5 was powered by Qualcomm Snapdragon 800 series quad-core processor with CPU speed of 2.3GHz (with Adreno 330 GPU) and 2GB RAM, while its successor is expected to feature the 64-bit version of its Snapdragon 800-series chipset with 3GB RAM.
3. OS: Google Nexus 6 is expected to run on the next generation of Android OS (4.5), dubbed as Lollypop, while its predecessor runs on Android v4.4 KitKat.
4. Camera: Nexus 5 has an 8.0-megapixel camera (main) with OIS (Optical Image Stabilization) and a 1.3-megapixel front camera, while its successor is expected to have a 13MP (main) and a 5MP front camera.
5. Connectivity: Nexus 6 is expected to come in three storage variants - 32 GB/64 GB/128 GB. It may come with connectivity such as Bluetooth, NFC, Micro-USB, Wi-Fi and 4G. However, Nexus 5 has 3G and 4G/LTE connectivity with ad-ons like 2.3GHz Wireless Dual-band Wi-Fi (2.5G/5G) 802.11 a/b/g/n/nc, Bluetooth v4.0, NFC (Android Beam ), micro-USB, SlimPort enabled, dual-microphones Ceramic power and volume buttons, 3.5 mm stereo audio jack and built-in wireless charging.
(Photo Credit: Google)