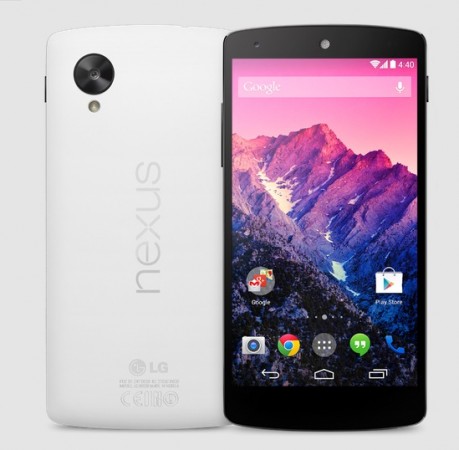 Many gadget lovers must be eagerly waiting for Google Inc. to cut the price of the Nexus 5 ahead of the release of its upcoming flagship smartphone dubbed as the Nexus 6 aka Nexus X but there is no sign of selling the device at a discounted price so far and it may not happen at all.
Google has the tradition of cutting the price of its devices ahead of the release of its flagship smartphones but Android Central Forums, a centre for Android users for help and discussion, claimed in a response to a query by its user that the company may not drop the price of the Nexus 5 but stop its availability instead after the release of the Nexus 6 aka Nexus X.
"I currently have an s3 mini and am looking to upgrade to a nexus 5. Last year on August 27, the nexus 4 got a price drop by 100 dollars. My question is should I wait to see if it will get a price drop or should I buy it now?" asked Shambopyro, a user of the forum.
JeffDenver of Android Central Forums replied that Google may not cut the price of the Nexus 5 at all.
"I would not bank on a huge price drop. What will probably happen is that Google will just stop selling the Nexus 5 when the Nexus 6 arrives. There won't be a price drop, it will just stop being available after current supplies sell out," he said.
In what could be seen as a move to clear the current stock, a few carriers have started selling the Nexus 5 at a discounted price but the Google Play Store hasn't changed the price tag. eBay recently sold the 16GB variant of the Nexus 5 (Unlocked) at $314.99 (Unlocked) as against the original price of $350 but it stopped after selling 2,000 units. It put up "SOLD" tag on its website a few days later, giving a strong hint that the carrier was either trying to create hype around the upcoming device, Nexus 6 aka Nexus X or was trying to deplete the remaining stock.
It may be mentioned that the Nexus 5 is still going strong despite its age. It sports a 4.95-inch display with 1080 x 1920 pixels (445 ppi pixel density), powered by Qualcomm MSM8974 Snapdragon 800 chipset and runs on Android v4.4.4 (KitKat). It comes packed with 16/32 GB internal memory and 2 GB RAM, have an 8MP camera with autofocus, optical image stabilization, and LED flash and houses non-removable Li-Po 2300 mAh battery.
Meanwhile, Google is expected to release the Nexus 6 aka Nexus X this fall though it has not made an official announcement. Vice president of Google, Sundar Pichai had said at the Mobile World Congress 2014 (MWC 2014) that the smartphone would be announced in October. However, Inferse website has claimed that Motorola Shamu aka Nexus 6 will be unveiled on 31 October.