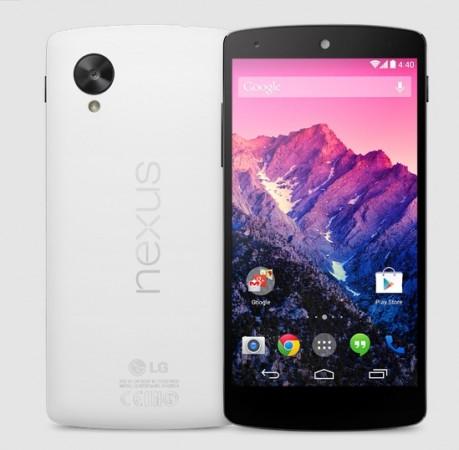 Google Inc. hasn't revealed the release date of its upcoming flagship smartphone dubbed as the Nexus 6 aka Nexus X but tipsters have been continuously leaking every bit of the device from features to looks. Now, a new report has suggested that Google could launch two models of the device like Apple did a few weeks ago.
A report by 9to5Google website claimed that "there might actually be more than one Nexus 6/X from Motorola," like Apple released two models of iPhone 6 recently. It claimed that the Nexus 6 aka Nexus X will sport a 5.92-inch screen contrary to Antutu benchmark listing that showed a 5.2-inch device, which can be taken as a possible hint of Motorola releasing more than just one handset. It also said that the handset codenamed "Shamu" could be a different device and not the Nexus 6 aka Nexus X as claimed by many.
However, it's just speculation, as Google hasn't given even slightest hint that it would come out with two models of the new device from the Nexus series.
According to 9to5Google, the Nexus 6 aka Nexus X will have a 5.92-inch display with QHD resolution of 2560 x 1440 (498 ppi), a 13 MP main camera and a 2 MP front snapper, a 3,200 mAh battery and come packed with 32 GB internal memory and 3GB of RAM. It may be powered by a Snapdragon 805 processor and run on Android L. The website also claimed the looks of Google's new device will be similar to 2nd generation Moto X, including the location of mic, headphone jack, and SIM card slot. It went on to say that the device may have aluminum bezel and camera almost identical to the one seen in the Moto X but may not have features like Moto Assist and Quick Capture.
Meanwhile, G4Games website reported that the Nexus 6 aka Nexus X might be powered by either Quad-core MT6732 64-bit chip that clocked at 1.5GHz, or the octa-core MT6752 SoC running at a frequency of 2.0GHz. According to Antutu benchmark listing, the device will sport a 5.2-inch display with 1440x2560 pixels, powered by Qualcomm Snapdragon 805 chipset with CPU speed close to 2.5GHz, come packed with 3GB RAM and 13MP rear camera and 2.1MP front snapper.
It is also report that the device may house a 3100 mAh Li-Polymer battery and come with several interesting features, including a curved LCD display and a lightweight, polycarbonate body. In terms of connectivity, the device may boast of Wi-Fi, 4G LTE, Bluetooth 4.0, NFC and micro-USB connectivity slot.
The Nexus 6 aka Nexus X is very likely to be unveiled in October though Google is tightlipped on the device so far. Inferse website has reported that the next-generation smartphone would be unveiled on 31 October. Vice president of Google, Sundar Pichai had earlier said at the Mobile World Congress 2014 (MWC 2014) that the device would be announced in October.