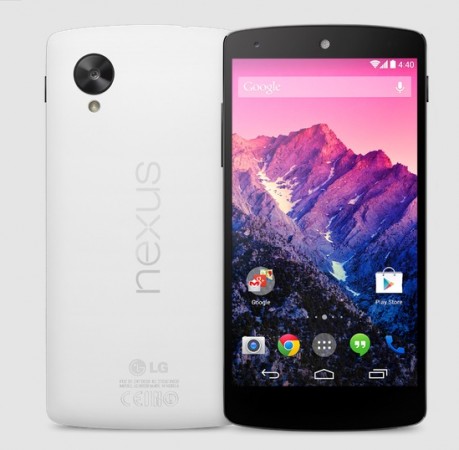 The specifications of Google's much-awaited new flagship smartphone, dubbed Nexus 6 aka Nexus X, have been leaked ahead of its launch.
The search engine giant has not revealed the release date of the device but reports claim that it will arrive on 31 October, with several feature upgrades over its predecessor Nexus 5.
Vice president of Google, Sundar Pichai, said at the Mobile World Congress 2014 (MWC 2014) that the new device would be announced in October but the company has not uttered a word on the smartphone ever since. However, Inferse website claimed in a report that the next-generation smartphone would be unveiled on 31 October.
Tipsters have been leaking details of Nexus 6 aka Nexus X over the last few weeks, despite Google's secrecy. There are conflicting reports on the features expected to be seen in the new device, and the latest report claims that it will have several upgrades over Nexus 5, which was released in October 2013.
Here are the feature upgrades Nexus 6 is expected to have over Nexus 5, according to latest reports:
1) Display: The Nexus 6 aka Nexus X will sport a 5.92-inch screen with QHD resolution of 2560x1440 (498 ppi), according to a report by 9to5Google website, contradicting Antutu benchmark listing that said it will sport a 5.2-inch screen with 1440x2560p resolution (565 ppi pixel density). On the other hand, the Nexus 5 sports a 4.95-inch display with 1080x1920 pixels (445 ppi pixel density).
2) Battery: The Nexus 5 houses a Li-Po 2300 mAh battery but its successor is expected to come with a huge upgrade. 9to5Google reported that the Nexus 6 aka Nexus X will be powered by a 3,200 mAh battery, while earlier reports claimed that it will house a 3,100 mAh Li-Polymer battery.
3) Design: The Nexus 6 aka Nexus X may come with a new look, completely different from its predecessor Nexus 5. According to 9to5Google, the appearance of Google's new device will be similar to the 2nd generation Moto X, including the location of mic, headphone jack, and SIM card slot. It is also reported that the new device will come with a curved LCD display and a lightweight, poly-carbonate body.
4) Processor: The new device will be powered by Qualcomm Snapdragon 805 chipset with CPU speed close to 2.5GHz, according to Antutu benchmark, while G4Games reported that it will come with Quad-core MT6732 64-bit chip that clocked at 1.5GHz, or the octa-core MT6752 SoC running at a frequency of 2.0GHz. The Nexus 5 has a Qualcomm MSM8974 Snapdragon 800 processor.
5) Operating System: Google is expected to introduce its yet-to-be-released software, Androild L in the Nexus 6 aka Nexus X. However, the Nexus 5 runs on Android v4.4 KitKat.
6) Memory: The Nexus 6 aka Nexus X may have a huge memory upgrade over its predecessor. It is expected to come packed with 32GB internal memory and 3GB RAM, compared to 16/32GB internal memory and 2GB RAM seen in the Nexus 5.
7) Camera: The Nexus 5 has an 8MP with auto-focus and optical image stabilization, while its successor may come with a 13MP rear camera and 2.1MP front snapper, according to Antutu benchmark.
Interestingly, a report by 9to5Google suggested that Googlecould release two models of Nexus 6 aka Nexus X, one with a 5.2-inch display and the other with a 5.95-inch screen, like Apple recently did with iPhone 6. However, there is not even a slightest indication from the search engine giant that it will launch two devices.