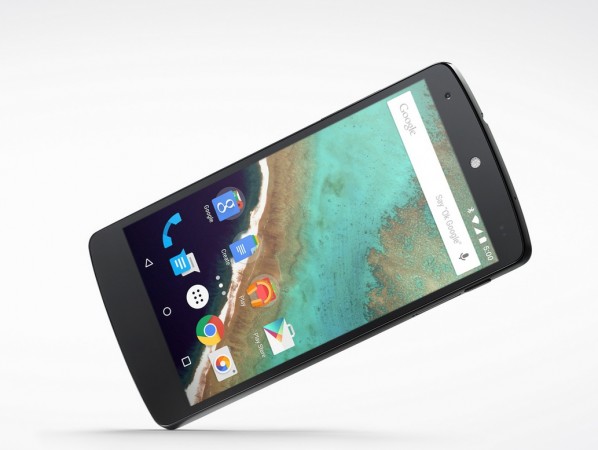 Although Google is still tight-lipped about the release date of its upcoming Nexus devices, new leaks are coming out almost everyday about the two most-anticipated devices.
The latest information has been leaked on Twitter, showing the display of both the upcoming devices, the Nexus 5 (2015) and the Nexus 6 (2015).
The Twitter handle @onleaks has posted a couple of images of a display panel and claimed one of them to be LG Nexus 5 (2015).
Phandroid reports that the display will measure 5.2-inch and will purportedly feature 1440 x 2560 pixels resolution (2K). The rendered image of the display shows the LG Nexus 5 (2015) will feature the front camera on the top left of the display while the ambient sensor will be housed on the top right corner. There are no details about the other display shown in the image, but according to rumours, it might be Huawei's upcoming Nexus 6 image.
The Nexus 5 (2015) and Nexus 6 (2015) editions will be the first handsets to run on Android 6.0 Marshmallow and are expected to be released by October or November this year.
According to a earlier leak released on Chinese social community website Weibo, the Nexus 5 (2015) will feature a 5.2-inch, 1440 x 2560 pixels UHD display and come powered by Snapdragon Hexa-core processor 808 which combines a Quad-core Cortex A53 processor running at 1.44GHz clock speed and a Dual–core Cortex A72 processor running at 1.8GHz. The processor will be backed by 3GB RAM memory and 64GB storage space and a 2,300 mAh battery.
The Nexus 5 (2015) is also expected to feature a fingerprint sensor and a USB Type-C connector, like those featured on OnePlus 2 smartphones.
Some other leaks claim the Nexus 5 (2015) will feature 4GB RAM and will be powered by a 3,180 mAh battery.