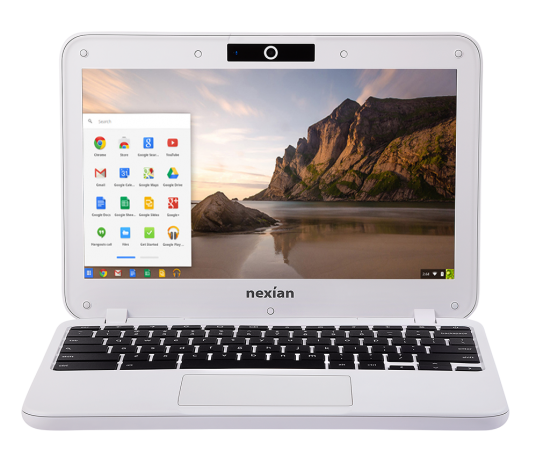 Laptop maker Nexian has launched "Back to School" offer for students, offering its Chromebook for ₹12,999 exclusively on Amazon.in, along with a range of freebies.
As part of the offer, consumers will get a free Strontium 64GB SD Card worth ₹2,229 by using the promo code and complimentary access to 100 GB cloud storage on Google Drive for up to 2 years from the date of purchase.
Additionally, consumers can also avail of a buyback offer worth ₹10,000 on their purchase in exchange for an old laptop and a discount of ₹400 on purchase of a Chromecast HDMI Streaming Media Player along with the Nexian Chromebook.
The Nexian Chromebook is exclusively designed for students, offering them seamless access to all their music, movies and data stored on Google Drive.
With the Chromebook, they can access all these files from anywhere with an Internet connection.
The Nexian Air Chromebook sports an 11.6-inch TFT display with a 1366 x 768 pixel resolution and runs on Google's popular Chrome OS. It is powered by a 1.8GHz Cortex A17 Quad core processor coupled with a 2GB RAM.
On the storage front, the Nexian Air Chromebook offers a built in storage of 16GB (upto 9.6 GB available for storage), expandable using a SD card.
The device also includes two USB 2.0 ports, an HDMI port, a 1 MP (1280 x 720) pixels web camera and Bluetooth 4.0 along with a power packed 4,200mAh battery offering uninterrupted media viewing experience.
The device also comes with preloaded Google apps such as Google Docs and Gmail. The apps can be used both in online and offline mode for added convenience. Google Docs is also compatible to MS Word, MS Excel and PowerPoint for ease of use of MS Office/Windows user.