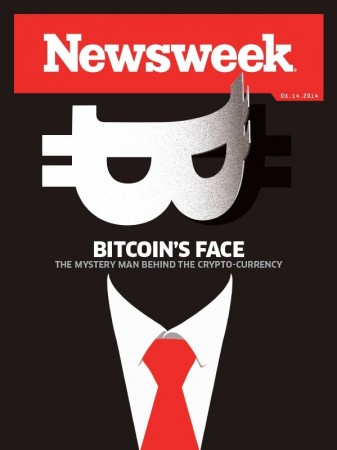 Newsweek, the weekly magazine and a sister publication of the online news platform, International Business Times (IBT), came back to print life on Friday with a bang.
It created an online frenzy on Thursday after its cover piece, which ran online first, revealing the unconfirmed identity of the seemingly reclusive and elusive founder of crypto-currency Bitcoin. The piece was written by Newsweeks' journalist, Leah McGrath Goodman.
US Magazine, Forbes said that the outing of Bitcoin Creator Satoshi Nakamoto is an important journalism.
"It may be boring, but it's impressive that Goodman apparently succeeded where others have failed. While Dorian S Nakamoto refused to talk at length with her, she did interview many people in his life, including his brothers, children, ex-wife, and former colleagues, all of whom found the idea that he is Bitcoin's creator, compelling given his libertarian views, background as a computer engineer and work on classified military projects. They also claim that his writing style matches that of Nakamoto," the article says.
Bloomberg said that Nakamoto who was named as Bitcoin founder, has denied his involvement and has 'fled press'.
"A 64-year-old physicist, identified by Newsweek magazine as Bitcoin's creator, was chased by reporters through Los Angeles and denied any role in the digital currency, saying that he first heard of it three weeks ago," the news outlet said.
British Newspaper, The Telegraph questioned the story with a headline, "Has bitcoin creator 'Satoshi Nakamoto' been found?"
It has also requested viewers to vote if Newsweek uncovered the real Satoshi Nakamoto. At the time of writing, over 62 percent of the respondents said 'no'.
No sooner had the news gone viral, the Associated Press published a story, what it called as an 'exclusive'. "Man said to create bitcoin denies it," the Headline read.
It reported that the key portion of the piece - where Newsweek quoted telling the reporter on his doorstep before two police officers, "I am no longer involved in that and I cannot discuss it" - was misunderstood.
The New York Times had a non-committal and balanced outlook towards the news. It simply said that 'Bitcoin's mysterious Creator is said to be identified."
"If the identification is wrong, it would not be the first time that a reporter had incorrectly determined the identity of Bitcoin's creator," the news outlet said.
"Yet even if the report proves correct, virtual currency proponents at Bitcoin conferences in Texas and Barbados said that identifying Nakamoto would be a violation of the privacy the currency was intended to protect," it added.
Reuters said that the man branded as Bitcoin's father has denied ties. It notes that the news expose led to a bizarre "LA car Chase".
"Dozens of reporters, including a sprinkling of Japanese media, encircled and camped outside the man's two-story house on Thursday morning, accosting the mailman and repeatedly ringing the doorbell, to no avail. Police cruisers drove by several times but did not stop," it said.
International Business Times has posted a video of the Newsweek Writer Leah McGrath Goodman discussing the fallout.
Goodman said that she expected her story would open up dialogue about Nakamoto and that it was intended as almost a tribute to a man who invented something that shaped our world.
She added that she didn't anticipate the outrage and the anger from commenters, mentioning that even some reacted by publishing personal information about her. She said that she wanted readers to celebrate Nakamoto for his genius and not be outraged.
(Edited by Anu James)