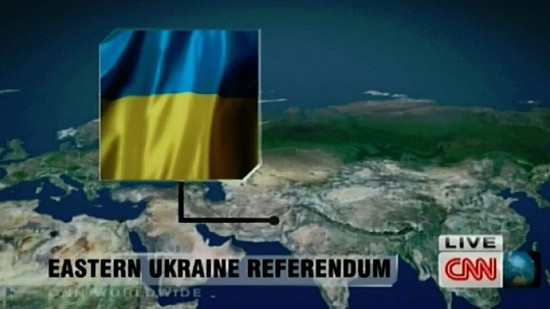 American news giant CNN made news after it become the point of ridicule and criticism, over a mix-up in the map that showed Ukraine. During a live news coverage, the channel pinned the eastern European country hundred of miles away - in Pakistan.
On Sunday, CNN International was reporting the much-anticipated referendums in Ukraine's eastern regions of Donetsk and Lugansk. And while using a map to indicate the country's geographical location, the arrow with Ukrainian flag on top was pointing to Pakistan, South Asia.
A TV viewer instantly recorded the mix-up on a phone camera and uploaded it on YouTube.
Here, watch CNN's Ukraine goof-up video:

Soon, several Twitter users picked up the news. Here are some of the reactions:
CNN congratulates Eastern Ukraine for finally becoming independent from Pakistan! pic.twitter.com/NkER78PNY7

— Vera Graziadei (@verafilatova) May 12, 2014
As many other Americans, @CNN does not know where Ukraine is. MT @Balkanist: Eastern #Ukraine is NOT in #Pakistan. pic.twitter.com/YNNCsvyVxC

— Jacopo Ottaviani (@jackottaviani) May 11, 2014
US is so much obsessed with blaming everything on Pakistan that even Ukraine is indicated as part of Pakistan... http://t.co/QlHb0vlqHN — Wali Khan (@Tajwali) May 13, 2014
This is certainly not a first for CNN, as previously the channel had racked up severe criticism from its UK audience after it showed London as located miles away in Norfolk, during another live broadcast. Similarly, in another such embarassing goof-up, CNN relocated Hong Kong right out of Asia and into South America.