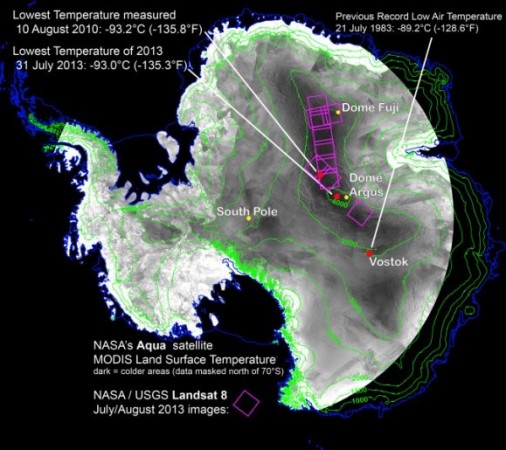 There is a spot in a remote uninhabited Antarctica, where a human could survive for only three minutes due to bitter low temperature. It is in fact the coldest temperature discovered so far in history, and is recorded at minus 93.2 degree Celsius (-135.8F)
Newly analyzed NASA satellite data from east Antarctica show the existence of a place so extremely cold that ordinary alcohol or mercury thermometers would not work, as they can measure low temperature only up to minus 50 degree Celsius.
If one were to walk on the surface of the new record low temperature, every breath would become painful with the cold making one's lips and sensory organs numb, and one's clothes would crackle with ice-breaks every time one moved. Additionally, if one were to throw boiling water up in the air it would be reduced to tiny particles of ice, while disappearing into thin air within a fraction of a second.
The numbing temperature was recorded on 10 August 2010 by Dr Scambos and his team, who have been examining the data records from polar orbiting satellites since about 30 years. The revelation was made at the American Geophysical Union (AGU) Fall Meeting, the largest annual meeting of Earth scientists scheduled from 9 to 11 December 2013.
Scientists have said that this was a preliminary figure and as they refine data from various thermal sensors, it is likely that they could discover a spot on earth even colder by a degree or two.
The new record, however, beats the previous record by a good margin. A low of minus 89.2C was also measured in Antarctica, which occurred at the Russian Vostok base on 21 July 1983.
"Thank God, I don't know how exactly it feels," Ted Scambos from the National Snow and Ice Data Centre in Boulder, Colorado said while making his presentation on Monday. He also explained that scientists routinely conduct stunts by standing naked in minus 73 degrees in the South Pole and that it has been concluded that humans can survive such temperatures for not more than three minutes.