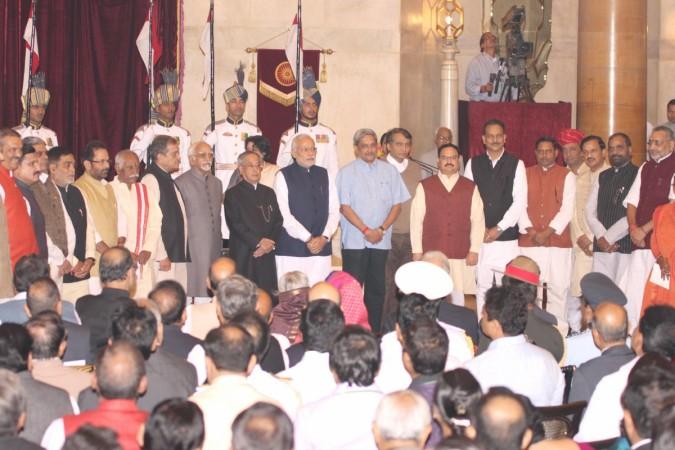 Prime Minister Narendra Modi's government expanded its cabinet on Sunday with 21 new ministers including cabinet and state ministers taking oath at the Durbar Hall of Rashtrapati Bhavan in Delhi.
Of the 21 new ministers, four have been allotted the cabinet ministry while 17 took oath as Ministers of State, of which three are of independent charge. The new cabinet ministers are Manohar Parrikar, Suresh Prabhakar Prabhu, Jagat Prakash Nadda and Birendra Singh.
Manohar Parrikar: The 58-year-old sworn was in as the Defence Minister on Sunday. Parrikar, metallurgical engineering graduate from IIT-Bombay, was the Chief Minister (CM) of Goa. Ahead of becoming the state CM, he entered politics early during his schooling years. He had joined RSS from which he moved in to BJP, representing which he acquired the Chief Ministership of Goa in 2000 and 2002. The second time around he was in power till 2005. He finally took over as Goa CM again in 2012 and continuing till resigning from his post in 2014.
Suresh Prabhu: A former Shiv Sena leader, Prabhu (61), joined BJP on 9 November after taking oath as one of the cabinet ministers. He was earlier the environment minister during the NDA government for which he also served as the Union Minister of chemical and fertiliser.
Jagat Prakash Nadda: An RSS loyalist, Nadda (54), was secretary of Akhil Bhartiya Vidyarthi Parishad during Emergency in 1977. He was later appointed as the minister in Himachal Pradesh Government. At present he is a Rajya Sabha member and BJP's National General Secretary.
Birendra Singh: Former Congress leader, Singh (68), joined BJP ahead of the 2014 Haryana assembly elections with the promise of getting entry into the cabinet ministry, to join which he was sworn in on 9 November. Earlier, during his tenure as Congress leader, he served as party in-charge for states such as Himachal Pradesh and Uttarakhand and has been the Chairperson of several parliamentary standing committees, according to a Hindustan Times report.
The Ministers of State with independent charge includes Bandaru Dattatreya, Rajiv Pratap Rudy and Dr Mahesh Sharma.
Dattatreya: Having an apparently strong portfolio of political experience, Dattatreya (67), has been chairperson of several parliamentary standing committees as an RSS activist. He has also been a minister during Atal Bihari Vajpayee's government and was one of the founding members of BJP of Telangana after the partition of Andhra Pradesh.
Rudy: Serving as BJP General Secretary, Rudy (52), too served the party during Vajpayee's rule, when he was given the civil aviation ministry with independent charge. Elected as a Lok Sabha member twice – in 1996 and in 1999 – he also served as the Minister of State for Commerce, Trade & Industry.
Sharma: RSS associate and former BJP MLA, Sharma (55), is a doctor by profession and has several charitable hospitals and clinics in Delhi.
The rest 14 Ministers of State include Hansraj Ahir, Mukhtar Abbas Naqvi, Giriraj Singh, Ram Kripal Yadav, Babul Supriyo, Jayant Sinha, Sanwar Lal Jat, Mohan Kundariya, Ram Shankar, Vijay Sampla, YS Chowdhary, Haribhai Parthibhai Chaudhary and Sadhvi Niranjan Jyoti.
Ahir: The 59-year-old is MP from Maharashtra ans was one among those who helped expose the coal scam by sending a letter to the Central Vigilance Commission leading to a CBI inquiry during UPA's regime. He is also credited for introducing several private member bills during his tenure as Lok Sabha MP in 15 years.
Naqvi (57) has served the ruling party as its spokesperson and has been its former information and broadcasting minister. He began his political journey with Janta Party in 1980 and was later incorporated into Vajpayee's cabinet in 1998.
Giriraj (54) who once served as the leader in the Nitish Kumar-led Jantata Dal (United) - BJP alliance government, was sworn in as Minister of State on Sunday despite his poor record. Election Commission had debarred him from campaigning during Lok Sabha polls.
Yadav (57) was once a supporter of Rashtriya Janata Dal chief Lalu Prasad and left his party to join BJP and won the the Patliputra seat forthem by defeating Lalu's daughter Misa Bharti this year.
Supriyo: Singer-turned politician Supriyo joined BJP after Baba Ramdev convinced him to join politics. He won the Asansol seat.
Sinha: Son of former Finance Minister Yashwant SInha, Jayant (51), has experience in corporate governance and strategy consulting and is believed to prove beneficial in the economic ministry. He has experience of "12 years with McKinsey & Company as a partner apart from serving as president of Internet Business Capital Corp and in consulting positions at Stone & Webster and Synergic Resources Corporation, US."
Jat served in the Vasundhara Raje Cabinet before contesting for the Ajmer seat where he defeated Congress leader Sachin Pilot.
Kundariya: MP from Rajkot, Kundariya was earlier in Modi's Gujarat cabinet and is said to be having a strong political hold in the Saurashtra region.
Shankar: An MP from Agra, he has worked for BJP's anti-corruption campaign and has been part of several parliamentary committees.
Sampla: A first time cabinet minister and Lok Sabha MP from Punjab, Sampla was a businessman before he joined politics a few decades ago, according to report.
Chowdhary: A businessman and TDP leader, Chowdhary was reportedly made Rajya Sabha member in 2010 by Chandrababu Naidu. On Sunday, he took oath as minister of state in Modi's government.
Chaudhury: MP from Gujarat, Chaudhury joined BJP in 1988 and served as vice president of Gujarat state party from 2005 to 2010.
Jyoti: The only woman candidate who has been included in Modi's expanded cabinet has previously served as an MP from Fatehpur.