Taking the title away from Moscow for the first time, New York is now officially the billionaire capital of the world.
According to China-based research firm's Hurun Global Rich List 2014, the US is now home to 481 billionaires, followed by China with 358 billionaires.
While half of the billionaires on the planet are in the US and China, the report notes that the other set of wealthy people are based in Russia, UK and India.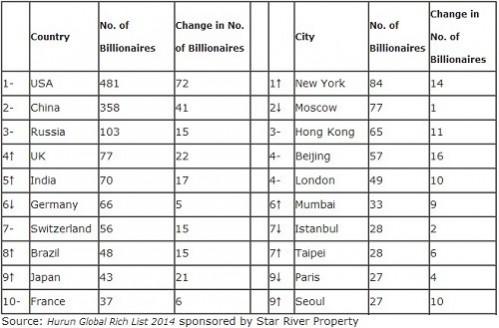 In the 2014 list, the US ranks number one with 481 billionaires; 72 more than that of the 2013 list. The combined wealth of the US billionaires is said to be US$2.2 trillion.
The report also notes that 84 of the US billionaires live in 'the Big Apple', showing an increase of 14 from last year. After New York, the highest concentration of billionaires in the US are seen in San Francisco and Los Angeles.
The US is also the world's capital for immigrant billionaires, with 42 of them in the list.
Meanwhile, China added 41 new billionaires this year to consolidate its second position with 358 billionaires. Russia comes in third position with 103 billionaires; 16 more than 2013. The UK rose to fourth position from fifth place with 78 billionaires, 22 more than 2013.
India also rose to fifth position with 70 billionaires, 17 more than 2013.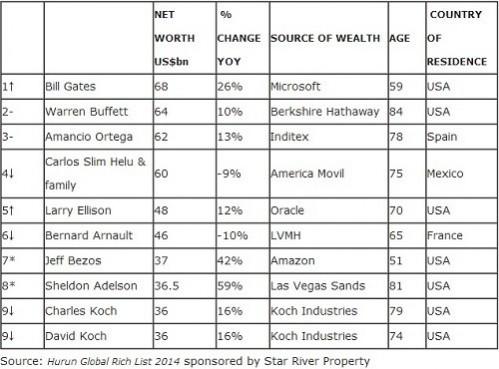 In the Top Ten - Hurun Global Rich List, seven are from the US. At 59, Bill Gates is at the top of the wealthiest men list with a fortune of US$68 billion, with an increase of US$14 billion than that of last year.
Warren Buffett, 84, and Amancio Ortega, 78, are in the second and third place in the list, for the second consecutive year, growing 10% and 13% to US$64 billion and US$62 billion respectively.
Carlos Slim Helu, 75, lost the top spot that he had been holding for the past two years, after seeing his wealth drop by US$6 billion, mainly on the back of a 9% drop in the value of the Mexican telecommunication company America Movil and a weak Mexican Peso (currency of Mexico).