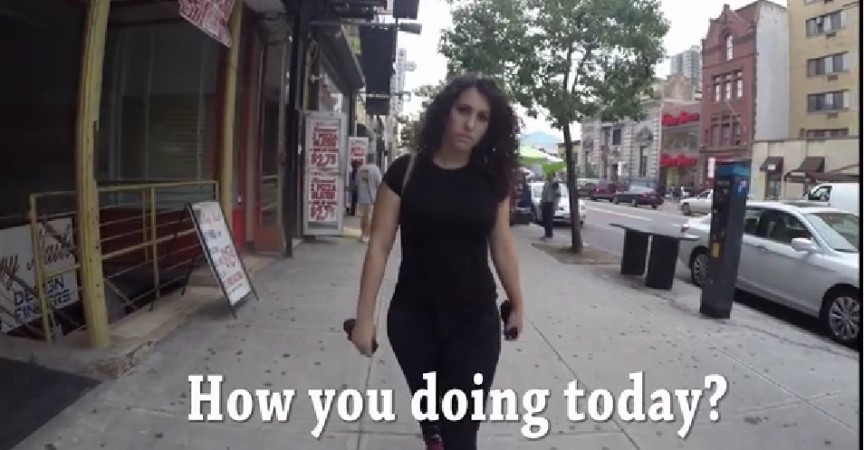 A video showing street harassment in New York has gone viral with over 13 million views and more than 63,000 comments, two days after it was uploaded on YouTube, sparking a world-wide conversation about street harassment.
The woman featured in the video which showed her being harassed and cat-called as she walked the streets of New York City, has now received at least 10 death and rape threats.
Actress Shoshana B. Roberts who is seen in the video, and the Brooklyn-based anti-harassment organization that sponsored the footage's production have received a host of threats, which have now been passed along to New York City police. Those threats underscore how casually some people view street harassment according to experts.
Some of the threats have gone directly to the actress's personal email accounts, the Wall Street Journal reports.
"We've had so many people reach out saying, 'Thank God, this is exactly what my day looks like,' or people who were shocked, saying, 'I had no idea that this is what women face. I'm so grateful,'" the Journal quoted Emily May, the co-founder and executive director of Hollaback!. "But we've also gotten this tremendous backlash from people saying just things and a number of violent threats."
The Video entitled "10 Hours of Walking in NYC as a Woman," has also received many derogatory comments – including one that says "this is exactly why woman aren't supposed to leave the kitchen," the Time Magazine notes.
Despite the backlash, the video has become the latest talk of the town and has intensified an ongoing conversation about street harassment. Watch the video below: