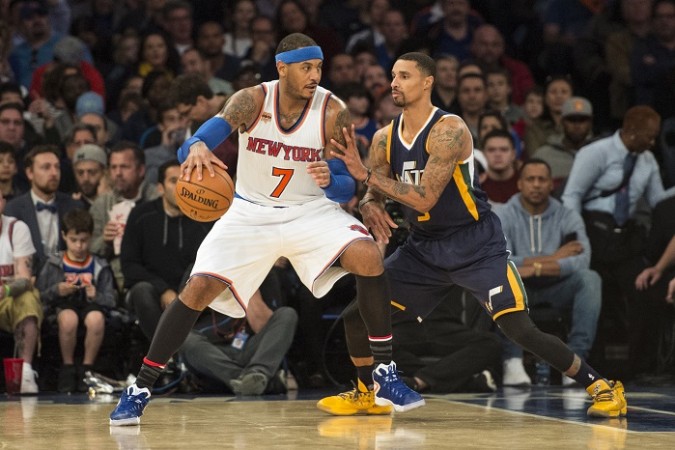 The New York Knicks traded for Derrick Rose in the offseason in the hope of being a contender in the Eastern Conference. However, after an iffy start to the season, doubts remain over the path the Knicks are moving towards, but the New York franchise will hope to go back to .500 when they face the Boston Celtics on Friday.
Boston, like New York, are also 3-4 after the first seven games of the season, but while the Knicks have blown hot and cold and then hot and cold again, the Celtics are currently on a three-game losing streak.
The reason behind their struggles is their defence, with the team lying in last in all the ones that matter when it comes to stopping plays.
The Knicks, coming off an impressive 110-96 victory over the Brooklyn Nets, have Carmelo Anthony, Rose, Kristaps Porzingis, who averages 19.1 points per game this season, and Brandon Jennings in their lineup, so Boston will need to find some way of improving their defence if they are to stop the skid.
"It's frustrating," Celtics point guard Isaiah Thomas said after a 118-93 loss to the Washington Wizards. "It's tough. We're in a bad funk right now. We can't hold our heads.
"One thing I think is, we're not the hardest-playing team no more. I think that's what made us special, that's what made us good, us playing harder than the other team. Being more scrappier, getting all the loose balls. Rebounds don't come to us anymore, because we're not playing hard."
One player who could help out is Al Horford, with the forward returning to practice, having missed Boston's last four games. Coach Brad Stevens, though, was not sure if Horford would make it in time to play against the Knicks.
"He did some light stuff with us, so he was cleared to go through some of it," Stevens said. "We didn't do anything contact, physical, competitive, so I don't know where that puts him in the protocol. I haven't gotten the update of what's next. But he is progressing. He's feeling a lot better."
Where to Watch Live
The NBA game is scheduled for a 7.30pm ET (12.30am GMT, 6am IST) start. Live Streamng and TV information below.
USA: Live Streaming: NBA League Pass.
India: No Live coverage.
UK: TV: BT Sport. Live Streaming: Watch BT Sport.
International (including India): NBA Online.