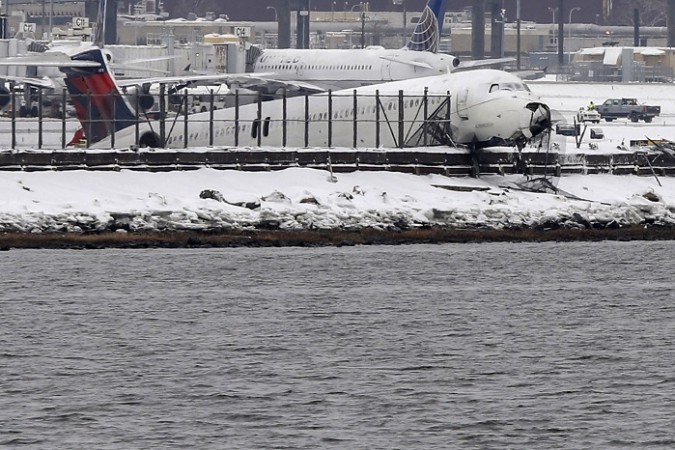 A Delta Airlines jet skidded off the runway while landing during a severe snowstorm at New York's LaGuardia Airport on Thursday. The plane slid off the runway and crashed into a fence after struggling to land amid harsh wintry morning weather – an incident that led to minor fuel leakage, triggering emergency evacuation and injuring a few passengers.
None of the 127 passengers and five crew members present onboard the Delta flight 1086, however, were reported to have sustained serious injuries although Associated Press reported six people were hurt in the midday accident. Three of them were taken to hospital according to NBC New York.
According to passengers quoted by the news agency, the airplane "landed hard" before taking a sharp turn to eventually hit the fence located at the end of the runway.
"It felt like fishtailing in a car," one passenger Charles Runel was quoted as saying. "But in a much larger car."
LaGuardia, described as the smallest of the three airports in New York, was immediately closed after the mishap, and was reopened only at about 2:30pm — an incident that snarled the air traffic for the day with many planes hovering around the East coast unable to land. Hundreds of other flights were cancelled for the day thanks to the incident and the increasingly disturbing weather system.
"I think the pilot did everything he could to slow the aircraft down," Reuters quoted Patrick Foye, executive director of the Port Authority of New York and New Jersey, as saying.
"Obviously, the pilot's and the co-pilot's good efforts were reflected in the fact that there were only minor injuries."