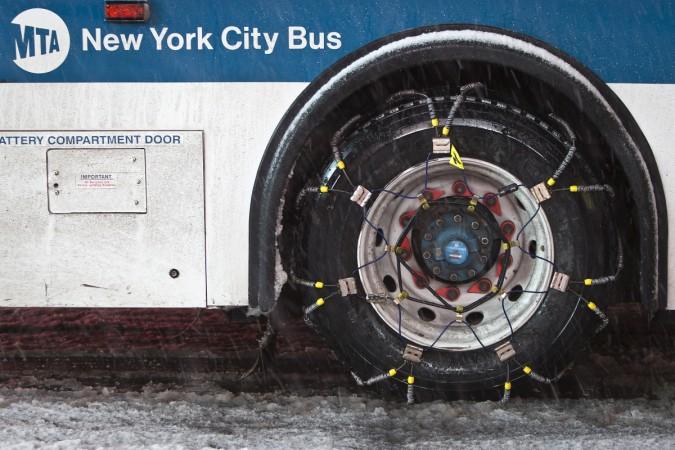 A New York judge's decision to allow buses to run with controversial ads referring to 'Muslims Killing Jews' drew sharp reactions on the social media, with some criticising it as 'promoting Islamophobia'.
Judge John Koeltl rejected the New York Metropolitan Transportation Authority's argument that the advertisements could incite violence on the grounds that the ads were protected under the US Constitution's principle of free speech.
The ads, funded by the American Freedom Defense Initiative, a group referred to as anti-Muslim, shows a man in a scarf next to the words "Killing Jews is worship that draws us close to Allah".
The ad cites Hamas TV and asks: 'That's his Jihad. What's yours?'
The AFDI-promoted ads have run in other cities in the US, such as San Francisco and Chicago, with taglines that read: 'Islamic Jew-Hatred -- It's in the Quran'.
"It strains credulity to believe that New Yorkers would be incited to violence by ads that did not incite residents of Chicago and San Francisco," Judge Koeltl said, according to reports.
The judge has given a month's time for the order to come into effect.
Pamella Geller, who heads AFDI and also a group called 'Stop Islamization of America', hailed the order as a 'triumph for liberty and free speech'.
The move was discussed on Twitter. Here are some of the reactions.
This is shameful even for the US . Trying to spread islamophobia amongst it's citizens. #SaynotoIslamophobia http://t.co/zbrJHVncv3

— Mohamed Awadh (@MohamedAwadh_) April 22, 2015
If the NY ad showed Jews killing Muslims, there would be uproar. These types of ads should never be allowed. — Huma Munir (@humamunir) April 22, 2015
I can see two extremes of both worlds. Sigh!.... US judge allows 'Muslims killing Jews' ads on buses http://t.co/UMgHbtpWNT

— Dreadnoughtus (@ahsan_atiq) April 22, 2015
sometimes I totally do not get how humans rationalise themselves http://t.co/Nf5j1imyAl — Sanjay Sharma (@Chaupaari) April 22, 2015
While some may perceived it as freedom of expression, but it could also be seen as the politics of blackmail &... http://t.co/Xib28iSvdv

— Yangora Adam Mani (@mypostline) April 22, 2015
Some Twitterati supported the move:
NY buses must show 'killing Jews' ad http://t.co/wKZRmpoiws WOW ! A judge doing the right thing !

— Patrick Mo (@Patrick41215107) April 22, 2015