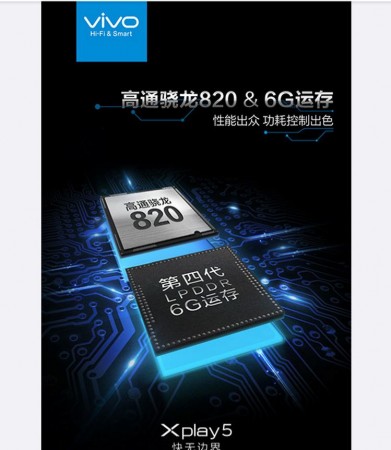 Chinese smartphone maker Vivo has released a new teaser of the flagship XPlay 5 revealing the device's key features ahead of March 1 launch.
Vivo, on Chinese social media platform Wiebo, posted the teaser showing the hardware configuration of XPlay 5 confirming that it will boast 6GB LPDDR4 RAM and Qualcomm Snapdragon 820 quad-core SoC (System-on-Chip).
Once launched, Vivo XPlay 5 will become the world's first smartphone to boast such a high capacity 6GB RAM. Only a handful of top-end phones in the market house 4GB RAM and it was supposed become a standard norm in 2016, but now Vivo XPlay 5 with PC grade hardware will set a new benchmark in the smartphone industry.
RAM (Random Access Memory) is a very important component in a smartphone, and devices with higher capacity RAM are more efficient. RAM optimises resource utilisation among applications so that devices face no lag and work smoothly.
Vivo XPlay 5 is expected to sport a mammoth 6.0-inch dual-edge curved display with QHD (aka 2K: 2560x1440p), Gizmo China reports.
Other expected features of XPlay 5 include 16MP primary camera on the rear side, 8MP snapper on the front and a massive 4300mAh battery.
Since there is one week for the official launch of Vivo XPlay 1, there is a possibility that the company might tease a few more features. Stay tuned for more updates.