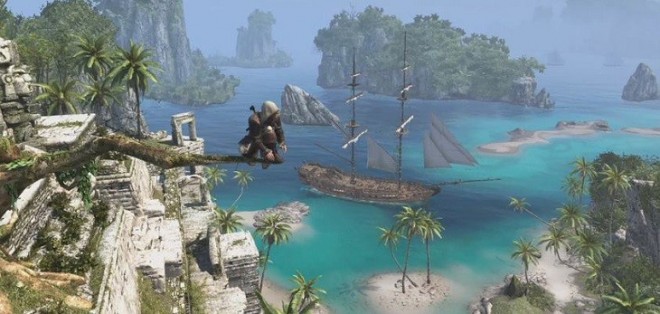 Ubisoft has released a new trailer titled '101 Trailer' for its upcoming open world video game, Assassin's Creed 4: Black Flag. The new trailer gives an overview of the features in the game, including its story, gameplay, ship upgrades, locations, stealth and combat mechanics.
The video introduces viewers to the 1715's Caribbean Islands, the hotbed of piracy where Edward Kenway, an Englishman who turns to piracy and whose character players will control.
Other pirates like Charles Vane, Anne Bonny, Calico Jack, Blackbeard are all introduced as Kenway's enemies, one of them being Woodes Rogers.
Players are given an overview of Jackdaw, Kenway's ship and his first mate Adewale who is both a warrior and a sailor. Players can also upgrade their ship's hulls, cannons and add the defeated ships into their fleet. They will also be able to hunt, explore and kill whales.
The video also advises players to explore the 50 main locations in the game that include Havana and Kingston where foliages provide cover.
One of Kenway's deadliest weapon is his element of surprise. To help maintain his stealth, he uses a blow pipe for silent long distance kills. He can also use a hidden blade, dual-swords, multi-gun ability making better use of free aim system to take on enemies.
The game is all set to be released on 29 October for Wii U, PlayStation 3 and Xbox 360. The PlayStation 4 version will be released on 15 November, PC version on 19 November and Xbox One on 22 November.
(YouTube Courtesy: AssassinsCreed)