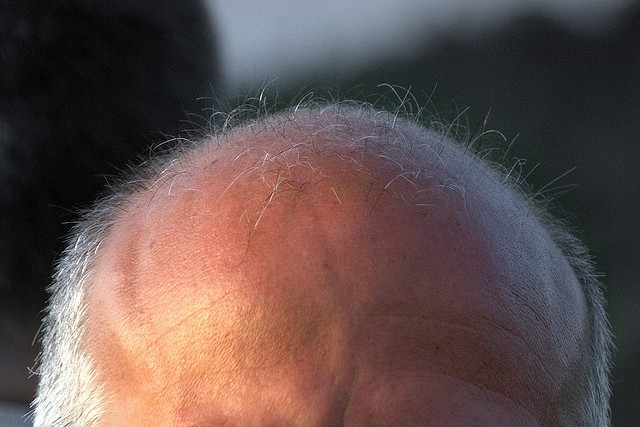 Balding in the 40's, particularly certain specific patterns, may increase a man's risk of developing prostate cancer, researchers reveal.
In the study, men with moderate baldness at the front and crown of the head at age 45, had 40 percent increased risk of developing an aggressive form of prostate cancer than men without the hair loss condition.
"Our study found an increased risk for aggressive prostate cancer only in men with a very specific pattern of hair loss, baldness at the front and moderate hair-thinning on the crown of the head, at the age of 45. But we saw no increased risk for any form of prostate cancer in men with other hair-loss patterns," senior author of the study Dr Michael B. Cook, an investigator in the Division of Cancer Epidemiology and Genetics at the National Cancer Institute in Bethesda, said in a news release.
For the study, Dr Cook and fellow researchers looked at 39,070 men, aged between 55 and 74, part of the U.S. PLCO Cancer Screening Trial.
Men completed questionnaires and used a pictorial tool to illustrate their hair loss patterns at age 45.
Results showed a direct link between male pattern baldness and aggressive prostate cancer. Of the total participants, 1,138 men developed prostate cancer. Half of the cancers (51 percent) were aggressive.
Men with frontal and moderate crown baldness had higher risk of developing the aggressive form of prostate cancer than others, the authors said.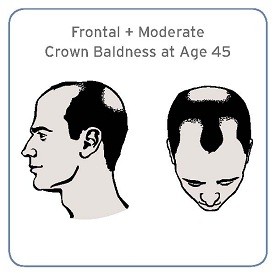 The study couldn't find any similar risk with other patterns of baldness.
Researchers and experts expected that the study findings will help improve prostate cancer diagnosis.
"Previous research linking baldness and prostate cancer has been inconclusive, but this large study suggests a significant link between high risk prostate cancer and hair loss - and suggests that men with hair loss may need to be followed more closely. More evidence is needed, however, before we can routinely consider baldness in prostate cancer screening recommendations," Charles Ryan, of the American Society of Clinical Oncology, said.
The study has been reported in the Journal of Clinical Oncology.
Several studies in the past have found similar risks.
A 2000 study of 4,421 men found that male pattern baldness (MPB) was a major risk factor for clinical prostate cancer.
In another 2011 study, researchers found a link between an early onset androgenic alopecia and prostate cancer. Androgenic alopecia is a common type of hair loss that affects both men and women.
Apart from baldness, several other factors can increase the risk of prostate cancer that starts in the tissues of prostate. According to the Cancer Research UK and previous studies, it includes family history, ageing, height increment, obesity, history of kidney cancer, genes, high calcium intake, mutation in BRCA2 gene, vasectomy and sexually transmitted diseases (STD).