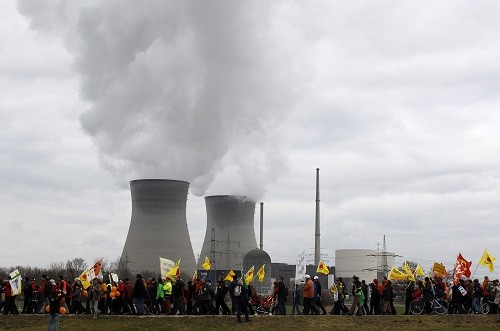 Living close to nuclear power plants does not increase a child's risk of developing cancer, according to a study released on Friday.
Researchers from the Childhood Cancer Research Group in Oxford, who reported their study in the British Journal of Cancer, based their findings on 10,000 British children with cancer who registered in the National Registry of Childhood Tumours.
All the children had been diagnosed with different types of cancer, including leukaemia or non-Hodgkin lymphoma, before they turned five years old, between 1962 and 2007. Researchers collected information about the place where children lived after birth and during the cancer diagnosis. They also recorded the distance between the children's residence and the nuclear power plant.
Results showed that nuclear power plants did not pose any additional risk in the development of childhood cancer.
Experts at the Cancer Research UK found the findings "heartening". However, citing the previous findings that found a link between the two, they urged the public to stay alert to avoid any risk.
"These results can't rule out any possible risk, so it's still important that we continue to monitor both radiation levels near nuclear power plants and rates of cancer among people who live close by," Hazel Nunn, Cancer Research UK's head of health information, said in a news release.
The findings contradict previous studies that found a strong link between nuclear power plants and childhood cancer. In 2012, a team of researchers from the Medical University of South Carolina in Charleston reported that proximity to nuclear power plant increased cancer risk by 14 to 21 percent and cancer related mortality by 5 to 24 percent.
According to the National Cancer Institute in the US, exposure to high doses of ionizing radiation, released by radioactive isotopes generated in the nuclear reactors, can bring in severe health problems, and can be fatal. They said exposure to low doses can increase the risk of cancer.