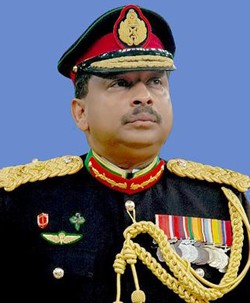 Sri Lanka's promotion of a senior officer whose division was implicated in serious human rights abuses casts doubt on government pledges to credibly investigate alleged war crimes, Human Rights Watch said on Sunday.
Maj Gen Jagath Dias, who led the army's 57th Division in the last two years of the civil war with the Liberation Tigers of Tamil Eelam (LTTE), was appointed the army chief of staff, one of the armed forces' highest post. Although effective from 7 May, the appointment was only made public on 15 May.
"Sri Lanka's new government has promised genuine accountability for war-time abuses, but naming the general of an abusive unit the army chief of staff is a slap in the face for victims," said Human Rights Watch.
"Members of the UN Human Rights Council expecting genuine accountability in Sri Lanka need to closely scrutinize the government's actions."
The last months of Sri Lanka's 26-year-long civil war, which ended in May 2009 with the defeat of the LTTE, were marked by widespread violations of the laws of war by both sides.
An independent report commissioned by the UN secretary-general found that up to 40,000 civilians, mostly ethnic Tamils, died during the war's final months.
The 57th Division took part in the last battles of the war, including the extremely bloody and abusive fighting on a small stretch of beach in Mullaitivu district.
Human Rights Watch documented the indiscriminate shelling of civilians and hospitals by government forces in the region where the 57th Division was deployed.
The previous government of President Mahinda Rajapaksa denied any laws-of-war violations by the military and placed all blame for civilian losses on the LTTE. He rewarded top commanders for their role in the war.
Gen Dias served as the deputy head of Sri Lanka's mission to Germany from 2009-2011. In 2013, Gen Dias was denied entry visas to Australia and the US for his possible involvement in war crimes.
"The government's appointment of General Dias is further proof that Sri Lanka needs an independent justice process with a strong international component that can undertake impartial investigations and prosecutions," Human Rights Watch said.
"Six years since the end of the brutal conflict, the victims of the war still await justice."