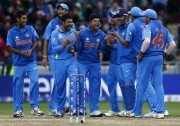 The Board of Control for Cricket in India (BCCI) has to fall in line with the guidelines set by the Sports Ministry or lose the right to use 'India' as the team's name, as the Draft National Sports Development Bill has clearly stated that only National Olympic Committee and National Sports Federation (NSF) that come under the ambit of Right to Information Act (RTI) can use 'India' in the title.
The committee headed by Justice (retd) Mukul Mudgal submitted the revised Draft National Sports Development Bill to Ministry of Youth Affairs & Sports on Wednesday. The Union Cabinet had rejected the bill in 2011 after some ministers dubbed it as anti-BCCI.
However, the new draft may not go down too well with the BCCI mainly on three counts.
1) Chapter II of the draft stated that "no sports organisation other than the National Olympic Committee and/or National Sports Federation under this Act for a particular sport shall have the right to use the expression "India" or "Indian" or any equivalent expression in any other language in its title or in any athletic competition controlled by it in India or abroad for that sport.
2) Chapter IV, 13 (1): The National Anti-Doping Agency shall function as the apex body to implement anti-doping measures in sports in India and its rules as amended from time to time shall be applicable and binding upon all National Sports Federations and the National Olympic Committee.
3) Chapter IX, 37 (1): The National Olympic Committee and the National Sports Federations shall be deemed to be public authorities as defined in clause (h) of section 2 of the Right to Information Act, 2005 and perform their duties and discharge their functions as such under that Act.
The fact is that BCCI will not be happy to be brought under RTI ambit as it is neither a registered NSF nor a recipient of government grant. It would also object uniform anti-doping rules. The Union Cabinet had rejected the original bill in 2011 for the same reasons with a few ministers terming it as anti-BCCI.
However, if the bill is passed in parliament, BCCI neither use 'India' as the team's name nor officially represent the country.
BCCI's interim chief Jagmohan Dalmiya said they will take a final call only after having a detailed look of the draft.
"It will be unfair to make any comments on this issue until I get a copy of the draft sports bill. Once I have a detailed look, I will discuss the issue with the other senior members of the board and take a final call," Dalmiya tols Press Trust of India.
"We have taken an unified stand till now on resisting any kind of government interference. We don't take any help from the government so how does the question of coming under RTI arise?" a senior office-bearer added.