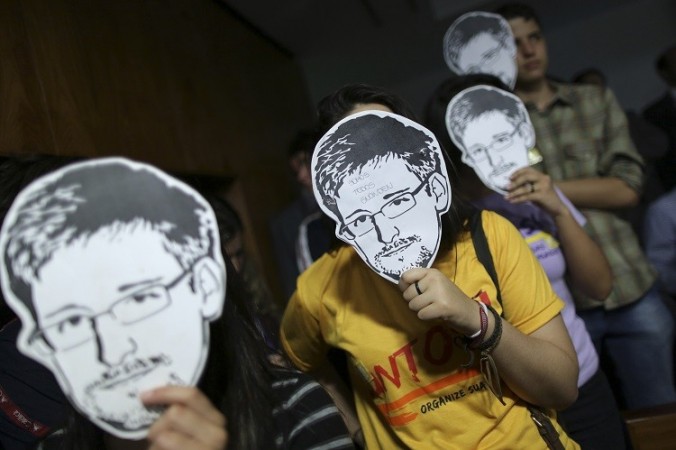 Former NSA contractor and whistleblower Edward Snowden will soon lend his expertise to the non-profit Freedom of the Press Foundation (FPF) that works towards protecting the digital communications of journalists. Snowden, who claims to be a 'computer wizard' will be part of the board of directors in February.
He will be joining the likes of Pentagon Papers whistleblower Daniel Ellsberg and journalist Glenn Greenwald. The other members of the board include American documentary film director and producer Laura Poitras, actor John Cusack, tech culture journalist Xeni Jardin and cyber-libertarian political activist John Perry Barlow.
Snowden's stint at the foundation will have him closely working with the group that works on a variety of open-source encryption tools and helps media organisations install SecureDrop, a whistleblower submission system.
Snowden, who shed light on US government's extensive spying activities last year, is currently living as a fugitive in Russia. Greenwald, the journalist who was among the first to collaborate with Snowden through a series of articles based on leaked NSA documents, said in a statement released by FPF on Tuesday that the board's newest edition "is a perfect example of our group's purpose."
"We began this organization to protect and support those who are being punished for bringing transparency to the world's most powerful factions or otherwise dissent from government policy. Edward Snowden is a perfect example of our group's purpose, as he's being persecuted for his heroic whistleblowing, and it is very fitting that he can now work alongside us in defense of press freedom, accountability, and the public's right-to-know," Greenwald said.
Snowden, who will work towards finding secure communication lines between journalists and sources in the age of mass surveillance, said, "It is tremendously humbling to be called to serve the cause of our free press, and it is the honor of a lifetime to do so alongside extraordinary Americans like Daniel Ellsberg on FPF's Board of Directors. The unconstitutional gathering of the communications records of everyone in America threatens our most basic rights, and the public should have a say in whether or not that continues."
On the issue of protecting digital communications, Snowden revealing his role in the board said, "Journalism isn't possible unless reporters and their sources can safely communicate. Where laws can't protect that, technology can. This is a hard problem, but not an unsolvable one, and I look forward to using my experience to help find a solution."