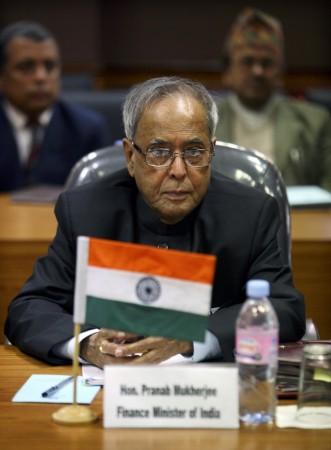 Pranab Mukherjee became the 13th President of India on Wednesday after a five decade of political life.
The 76-year-old veteran leader took oath in the name of God in the presence of dignitaries including outgoing President Pratibha Patil, Prime Minister Manmohan Singh, Vice President Hamid Ansari, Lok Sabha Speaker Meira Kumar, UPA Chairperson Sonia Gandhi, Cabinet Ministers, leaders of opposition, Governors and Chief Ministers.
He was offered a 21 gun salute after the swearing-in ceremony administered by Chief Justice of India Sarosh Homi Kapadia at Central Hall of Parliament.
The new President of India said in his acceptance speech that "this office is to function as the guardian of our Constitution".
"The principal responsibility of this office is to function as the guardian of our Constitution. I will strive, as I said on oath, to preserve, protect and defend our Constitution not just in word but also in spirit. We are all, across the divide of party and region, partners at the altar of our motherland.
Pranab Mukherjee stressed on working towards prosperity, "to eliminate the curse of poverty, and create such opportunities for the young that they can take our India forward by quantum leaps. There is no humiliation more abusive than hunger. Trickle-down theories do not address the legitimate aspirations of the poor. We must lift those at the bottom so that poverty is erased from the dictionary of modern India."
The President said that only education can push India forward.
"As Indians, we must of course learn from the past; but we must remain focused on the future. In my view, education is the alchemy that can bring India its next golden age. Our oldest scriptures laid the framework of society around the pillars of knowledge; our challenge is to convert knowledge into a democratic force by taking it into every corner of our country. Our motto is unambiguous: All for knowledge, and knowledge for all," he said.
He also said "peace is the first ingredient of prosperity". "History has often been written in the red of blood; but development and progress are the luminous rewards of a peace dividend, not a war trophy. The two halves of the 20th Century tell their own story," he said.