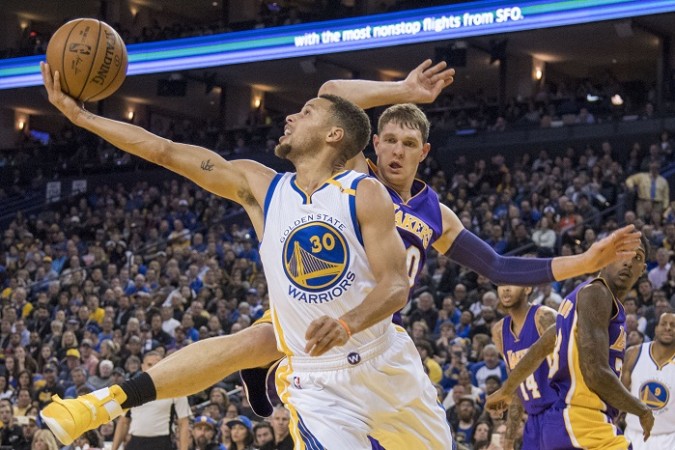 The Golden State Warriors were deemed as favourites for the NBA title even before the season began, and they have not disappointed their fans, standing atop of the western conference with 21 wins and four losses. The Warriors will hope to dominate New Orleans Pelicans at Smoothie King Center on Tuesday.
However, there have been a few occasions when Warriors have failed to deliver the goods, as was also witnessed against the Memphis Grizzlies, which they lost 89-110. But, as great teams do, they strike back with a bang in the next match, and the same was witnessed as the Warriors defeated Minnesota Timberwolves in their last match 116-108.
The Warriors with their stars like Stephen Curry, Klay Thompson and Kevin Durant will be a tough nut to crack for the Pelicans. They are a strong offensive team, and with such shooters in the form of Curry and Thompson from beyond the arc, they should not have much problem against the Pelicans.
Add to this the powerful performances of Durant, they are almost unstoppable when on song. In fact, it is Durant, who has been their best offensive player, averaging 25.8 ppg, compared to Curry's 25.4. The duo can tear apart any team in the league.
It is not only their offensive floor, but with Draymond Green, he adds the much needed solidity to counter team with his strong plays.
Even the Pelicans' home fans are aware of the daunting task that lies ahead. The Pelicans have only won one in their seven games, which is not what they would have wanted.
Pelicans have met Warriors twice this season, and have lost on both counts, but they have not been completely outplayed, losing by 8 and 10 points. To look into the bright side of things in those two matches, Pelicans scored more than 100 points, which means that they will have to do well on the defensive end too to emerge victorious.
Their record of late has been poor, losing five of their last six games. However, they will look for inspiration from their last win over Phoenix Suns, but the Pelicans are aware the Warriors are a different breed and they need to take their game to another level to lift their home fans by winning the contest on Tuesday.
Where to Watch Live
New Orleans Pelicans vs Golden State Warriors is set to begin at 8 pm ET (1 am GMT, 6.30 am IST next day). Live Streaming and TV guide for the NBA match is below.
India: TV: No coverage
UK: TV: BT Sport. Live Streaming: Watch BT Sport.
USA: NBA League Pass.
International: NBA Online