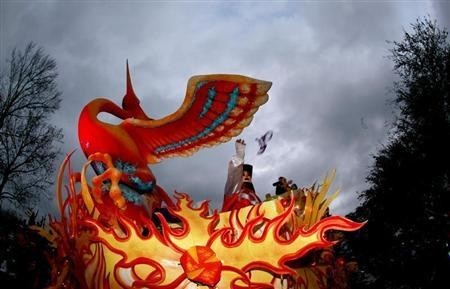 For the rest of the world March 4 might be just another Tuesday, but for New Orleans, it is Shrove Tuesday, better known as Mardi Gras.
Mardi Gras, is French for Fat Tuesday, which refers to the practice of the last night of eating richer, fatty foods before the ritual fasting of the Lenten season, which begins on the next day called, 'Ash Wednesday'.
One of largest celebrations happens in the city of New Orleans in Louisiana, where the largest street party on Earth is in full swing. The dazzling celebrations that include wearing masks and costumes, dancing, sports competitions, parades and more are often called the largest carnival in the United States.
While such an exciting event is underway, it is only natural to wonder if the rest of the America or the world could see the happenings of New Orleans' street live.
Where to Watch Live
As far as being able to catch up with live streaming of the New Orleans Mardi Gras Carnival celebrations is concerned, there are only a few options.
There is a new app by EarthCam that claims to be able to "set you down right in the heart of Mardi Gras in New Orleans".
The app will deliver the Mardi Gras actions live to your iPhone and iPad. The app costs $2.99 and requires iOS 6.0 or later. It is compatible with iPhone, iPad, and iPod touch. This app is optimized for iPhone 5.
While it may not always be a good idea to buy apps that is of use only for a day, a thing to remember is that it is at least cheaper than buying a plane ticket. And if you think the events in New Orleans can't be missed, the app is a must buy.
The app claims to connect viewers to Mardi Gras with live web cameras streaming in real-time throughout the city. For more details on the App, click HERE.
In addition to that, The Times Picayune has also claimed that they would stream live videos and take viewers through the Marigny neighborhood and into the French Quarter, considered the center of the costuming action. The videos will be streamed HERE.
There are also a few Facebook and Twitter pages and handles that would be feeding in live updates from the streets.Check out ExperienceNewOrleans.com and for its Twitter handle, click HERE. Viewers can also enjoy the fanfare at MardiGrasNewOrleans.com.
Major Events
This is for those who will be present in the city for the carnival. There will be a lot of events going on, so it difficult to attend all of them. If you are interested in live music performances there are quite a few music clubs that will be staging memorable live music. To see the list of best options click HERE.
Parade Schedules: The Krewe of Zulu will begin at 8am and the Krewe of Rex will begin at 10 am. The Krewe of Elks Orleans and Krewe of Crescent City will follow next. For further details on the parades, routes and other details, check HERE.
Mardi Gras Floats: What's a parade without some really great floats? Ever since parades began in New Orleans over 100 years ago, parade floats have played a major role.
Some floats are beautiful and elaborate while many others are funny and satirical. So don't miss a glimpse on them if you are there.
King Cakes: This merits a special mention here. The Feat of the Epiphany or the Little Christmas is not complete without King Cakes. Do remember to enjoy a slice of king cake, the traditional rich French pastry, which contains spiced apple compote, cream cheese, strawberries and often other delicious fillings. And yes, remember to just watch out for the baby and be the king! (The person who receives the slice of cake with the plastic baby will have the privilege of hosting the next King Cake party)