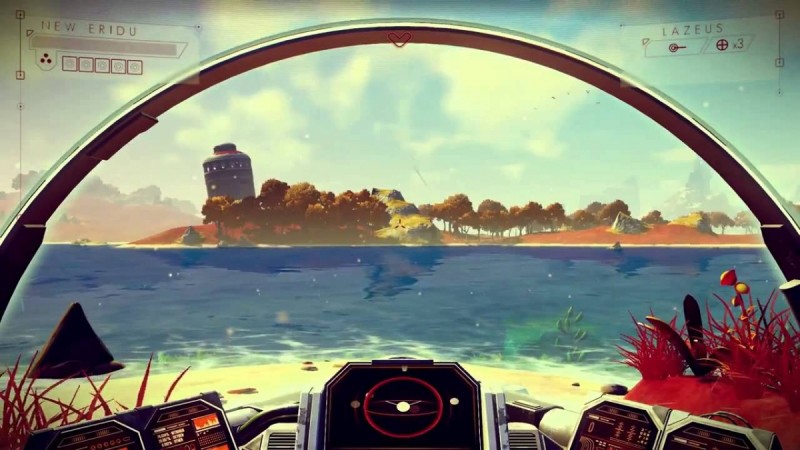 Hello Games' upcoming universe exploration title No Man's Sky captured our imaginations even before the game was shown off lavishly at this year's E3 event. The game offers a massive, explorable open world (or open universe, for that matter) that's filled with countless galaxies and a plethora of planets, all of whom have life.
And since we can't get enough of No Man's Sky, it seems like creator Sean Murray has provided an extended look at what players will actually be doing when they pick up their controllers later this month to master one of the best titles of the year.
The new 18-minute-long footage for the game (see below), recently posted by IGN via its IGN First panel, saw Murray exploring a random planet, scanning new life forms for discoveries, several alien creatures and even how to amass resources, hopping from one planet to the other.
As revealed by the new gameplay footage for No Man's Sky, it seems like players will be able to acquire items and store them in their ships, which can later be sold for Units (the game's currency). Units will play a major role since they can be exchanged for better ships and more cargo space.
Players will also be able to buy upgrades for their characters. These include a jetpack for easier navigation or even enhanced space suits that will let players visit toxic or radioactive planets. Apart from that, weapons can also be upgraded and like everything else in the game, weapons will also be procedurally-generated.
While exploring planets and finding new life forms sounds exciting, there will be consequences for those who create any kind of trouble on a planet. For instance, Murray shot a sort of "space goat" in the video and that made Sentinels appear.
Sentinels are a race of self-replicating robots, who attack you more fiercely if you fight them back. That being said, there is a kind of five-star wanted system in the game (identical to GTA) that will determine the fierceness with which Sentinels will attack you. If you raise your wanted level, tanks will quickly take you down.
In the game, whenever a player dies, it leads him or her to lose anything that he or she hasn't sold or stored already. Following that, the player will respawn on the same planet where he or she left off.
Murray concluded the demo by flying off into space and showing how players could forage for resources just by picking up cargo that were dropped by ships that had been blown to bits by other players or AI.
The title's mysterious end-game goal involves players making it towards the centre of the galaxy, with Murray even claiming that the centre of the universe is Peter Molyneux, but that was probably a joke.
Where have you placed No Man's Sky in your gaming wishlist for 2015? Let us know in the comments section below.
Stay tuned for more updates!