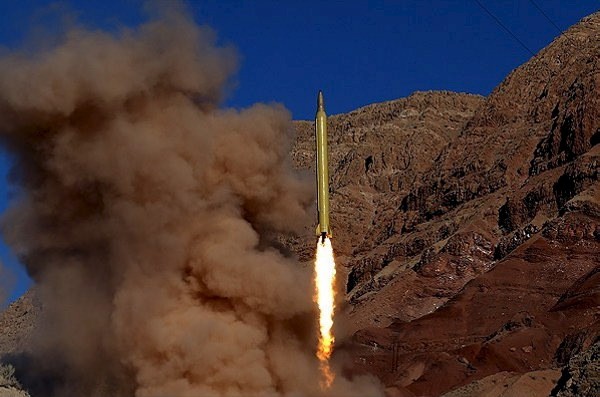 The new missile tests are not a violation of the nuclear deal Iran signed with the P5+1 countries, a senior Iranian official reportedly said Thursday. The country had test-fired ballistic missiles Tuesday and Wednesday that drew criticism from the U.S., one of the signatories of the nuclear deal.
The Revolutionary Guards Corps (IRGC) of Iran test-fired multiple missiles in a show of defiance against the nuclear deal, which was implemented in January 2016. The state media reported that the missiles can travel up to Israel and that "Israel must be wiped out" was inscribed on the missiles, the Associated Press reported.
"Iran's missile programme and its test-firing of missiles in the past days during a military drill are not against its nuclear commitments and the nuclear deal reached with the six powers," Iran's Foreign Ministry spokesman Hossein Jaberi-Ansari was quoted as saying by Reuters.
"Our enemies have come to understand that increasing security pressures and sanctions will not affect the enhancement of our capabilities so they seek to limit us in the missile arena through imposing economic sanctions," IRGC Chief Major General Mohammad Ali Jafari was quoted as saying by AFP.
Iran's missile programme will not stop on any account, Jafari said quoted by Reuters as saying Thursday.
"Iran's missile program will not stop under any circumstances ... The IRGC has never accepted the U.N. Security Council resolutions on Iran's missile work ... we are always ready to defend the country against any aggressor. Iran will not turn into Yemen, Iraq or Syria," Brigadier General Amir Ali Hajizadeh of the IRGC said.
U.S. Secretary of State John Kerry called Foreign Minister Mohammad Javad Zarif after the two missile tests to protest the violations of the sanctions on Iran. U.S. State Department spokesman John Kirby had said that the U.S. could take "unilateral" measures to "to counter threats from Iran's missile programme."
Iran can only pursue a peaceful nuclear programme or economic sanctions will snap back into place against the country. The Middle Eastern country had dismantled and removed two-thirds of its centrifuges among other such measures before nuclear sanctions against the country were rolled back, according to the White House. Sanctions on missiles and conventional weapons in Iran remain part of the deal.