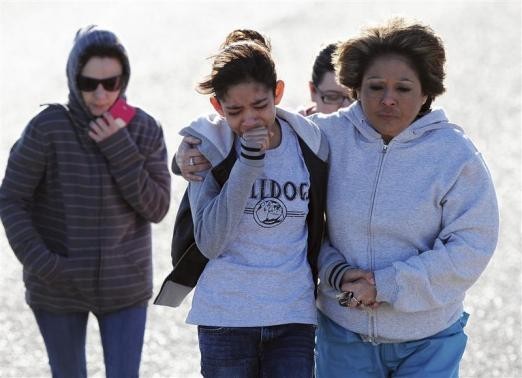 A shooting spree by a 12-year-old boy in the city of Roswell, New Mexico, has raised another round of concerns in the United States about the safety of students in schools.
The incident took place on Tuesday morning around 8:11am at Berrendo Middle School. The preteen suspect, whose identity has remained undisclosed due to his age, reportedly entered the school gymnasium with a .20-gauge shotgun and opened fire at his classmates. A boy of his age and a 13-year-old girl are said to be in critical condition.
Roswell police said the suspected shooter was arrested inside the school premises. Roswell Police Department posted news of the incident on its Facebook page soon after the incident.
The school was locked down amid tight security and terrified parents were told to collect their children from a nearby mall. The two students who were injured are thought to be the shooter's targets. Authorities are still investigating the reason behind the attack.
The shooter who entered the school gym had likely warned some of the students not to go to school before the attack, police in New Mexico said.
"We have preliminary information that possibly some of the students were warned by the individual prior to the shooting not to go to school," New Mexico State Police Chief Pete Kassetas said during a news conference that night.
Police were executing three search warrants, the police chief said. The school locker of the seventh-grade suspect, the bag he brought to the school and his home would be searched.
The shooting that lasted for about 10 seconds would have led to more casualties, it not for the timely intervention by a social studies teacher who is now being hailed as a "hero"..
The teacher, now identified as John Masterson, walked up to the suspect and managed to convince him to stop shooting, the police said.
"Mr. Masterson...was a hero...who stood there and allowed a gun to be pointed right at him," New Mexico Governor Susana Martinez said during a vigil service on Tuesday evening, "and to talk down that young boy to drop the gun so that there would be no more young kids hurt."
The incident has left parents, teachers and citizens thinking once again if school children are safe to go to school any more. More importantly, the incident sheds light on the government's role in implementing strict gun control legislation in the country.