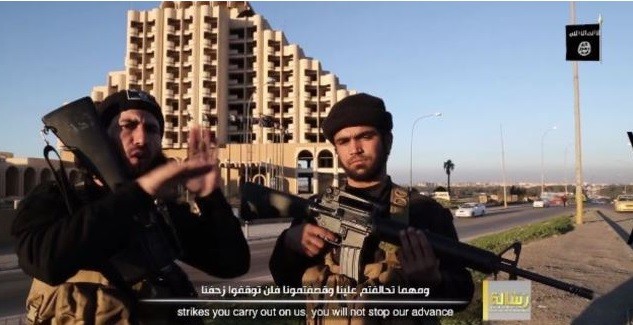 The Islamic State has roped in two hearing and speech impaired traffic policemen from their ranks in a new propaganda video to exhort European Muslims to move to Iraq and Syria to fight with them.
In the video titled' From Those Excused to Those Not Excused' that was shared on social media accounts on 8 March, the two militants, who claim to be traffic policemen in Mosul, Iraq, communicate in sign language to call Muslims in Europe to "come to the land of the Khilafah" where they "live in comfort".
One of the men, identified as Abu Abdur Rahman, says in a subtitled message that the "Islamic State is expanding."
The two gun-wielding men also threaten to slaughter Western leaders and their Arab allies who are fighting the group in a Us-led coalition.
"And we say to America, Britain, Italy, and France, who have frantically mobilized against the Muslims, and we say to the rulers of Jordan, Saudi Arabia, and Kuwait, who have allied with them...we will surely come and slaughter you, with Allah's permission," the men warn, using hand gestures.
The two hearing-impaired militants are also shown firing mortar shells which they claim is aimed at the barracks of the Peshmerga forces.
The nearly six-minute video is aimed at telling supporters in Europe that with even hearing and speech challenged men joining the ISIS ranks, they do not have an excuse to stay away, according to Radio Free Iraq.