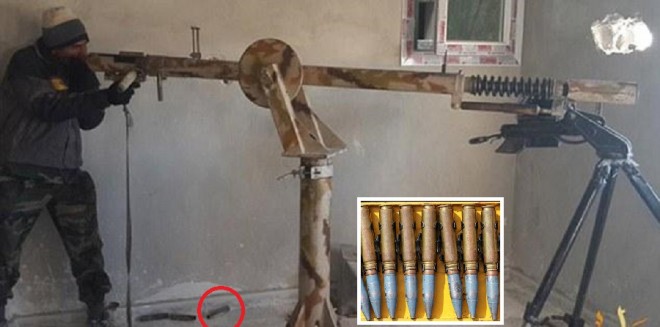 The Islamic State or ISIS has reportedly brought in a new killing machine, a 10-foot-long 'giant' sniper gun, to deal with the "difficult" Kurdish militia, which is proving hard to conquer.
Recently, the ISIS affiliate accounts on social media floated the picture of a 'giant' gun that fires a 23mm cannon. The ISIS fighters claimed that they were using the 10-foot-long weapon in Kobani against the Kurdish militia.
The gun in the image is so big that it has to be supported on two separate tripods, while the shell casings on the ground indicate that its bullets are three times the size of an ordinary bullet.
The picture shows an ISIS terrorist aiming the rifle out of an apartment window in Kobani. Weapons experts say that judging from the size of the bullets [23mm] the 'giant' rifle could in fact be a 23mm cannon taken from an anti-aircraft tank, designed to suit the needs of the ISIS militants.
Firearms expert David Dyson describing the capacity and impact of the gun told MailOnline: "The problem with identifying the effect of this gun is firstly that we don't know for sure what the calibre is, although there wouldn't be a lot of point in building something like this if it wasn't of a significant calibre."
Dyson pointed out that the 23mm bullets have high explosive incendiary and armour piercing projectiles. "They will be effective against personnel and vehicles including lightly armoured ones," he added.
In recent months, the ISIS suffered major losses in Kobani against the Kurdish militia. According to the Syrian Observatory for Human Rights (SOHR), the war in Syria till now has claimed 2,02,354 lives. However, it is believed that the number might have crossed 2,80,000, especially as those killed in the ISIS held areas have not been documented, a Washington Post report notes.