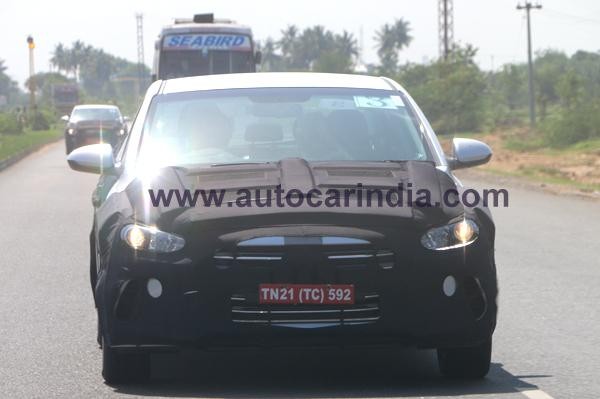 South Korean auto-major Hyundai has started testing its new Elantra on Indian roads. A prototype of what is believed to be the next-gen Elantra has been snapped while undergoing tests, hinting at the possible arrival of the model this year.
Caught on camera by Auto Car India, in the latest spy shot, the Elantra was seen in completely camouflaged form. However, it does show features like front grille of the new avatar of Elantra. The new Elantra is expected to get prominent hexagonal grille flanked by a pair of swept-back headlamps, and features prominent character lines and wide LED taillights in the rear. It is expected to come with features like a three-spoke steering wheel and a touchscreen infotainment system with satellite navigation.
Unveiled in Korea in September 2015, the new Elantra sedan is already on sale in a few international markets. In terms of dimensions, it measures 4,570mm in length, 1,800mm in width, 1,440mm in height, and has a wheelbase of 2,700mm.
Under the hood, the India-specific Elantra is likely to get three engine options— a 1.6-litre VGT CRDi diesel motor, a 1.6-litre GDi petrol engine and a 2.0-litre MPi petrol engine. Globally, the petrol engines come paired with six-speed manual and automatic transmissions, while the diesel gets a seven-speed dual-clutch automatic gearbox.
Expected to be priced in the range of Rs. 13 lakh to Rs. 17 lakh, the Elantra could come before the Civic. Honda is said to be planning to re-introduce the luxury sedan Civic in India. Although Honda still has not officially announced the re-entry of the Civic in India, reports had indicated that the launch could happen in early 2018.
[1 lakh = 100,000 | 1 crore = 10 million | 100 crore = 1 billion]