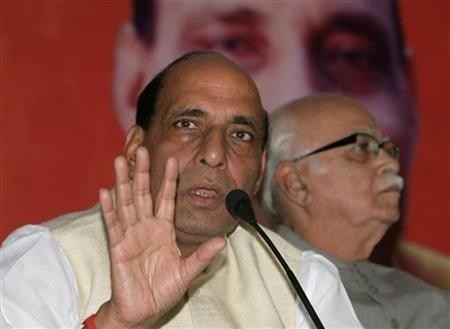 Appointment of new governors will take place during this session of the Parliament, Union Home Minister Rajnath Singh stated on Monday.
The Narendra Modi-led Union government is likely to fill vacancies of governors in states with several senior leaders of Bharatiya Janata Party (BJP).
"Governors for some states may be named in the days to come... the announcement can well be timed in middle of ongoing (budget) session," The Times of India quoted Singh.
The NDA government at the Centre had recently asked several governors to quit, leading to speculations that the government will appoint several senior BJP leaders as governors.
Last Sunday, the Union government announced the transfer of Gujarat governor Kamla Beniwal to Mizoram. Beniwal would serve her remaining six-month tenure as governor in Mizoram, stated a Rashtrapati Bhavan release.
In-charge duties of Gujarat Raj Bhavan has been given to Rajasthan Governor Margaret Alva, who is set to retire next August.
Karnataka Governor HR Bharadwaj was asked to retire recently and the state's in-charge was entrusted to Tamil Nadu Governor Konijeti Rosaiah. Rosaiah, a non-controversial politician from Andhra Pradesh, was the Chief Minister of the state, following the death of YS Rajasekhar Reddy in a helicopter crash in September 2009.
ESL Narasimhan, who was Governor of the united Andhra Pradesh, has been appointed the joint governor of both Telangana and Andhra Pradesh, bifurcated on 2 June. Vakkom Purushothaman, governor of Mizoram, has been transferred to Nagaland Raj Bhavan, which was vacant since the state's governor Ashwani Kumar quit last week.
Recently, five governors resigned from their posts - BL Joshi (Uttar Pradesh), Shekhar Dutt (Chhattisgarh), MK Narayanan (West Bengal), Ashwani Kumar (Nagaland) and BV Wanchoo (Goa).
Former Uttar Pradesh Speaker Kesarinath Tripathi, Punjab leader Balram Das Tandon, former MP Lalji Tandon, senior BJP leader from Kerala O Rajagopal, former Union minister Ram Naik, BJP senior leader VK Malhotra and former finance minister Yashwant Sinha are some of the probable candidates who are likely to be appointed as governors in the country.
Former UP Chief Minister Kalyan Singh is also being considered for a governor's position.
When the Modi government came into being in May, BJP veterans like LK Advani and Murli Manohar Joshi were left out from the Union Cabinet. Both Advani and Joshi are still without any plum posts in the government.
Recently, Union Minister of Road Transport and Highways Nitin Gadkari said in a television programme that Advani deserves to be appointed as the President of the country.