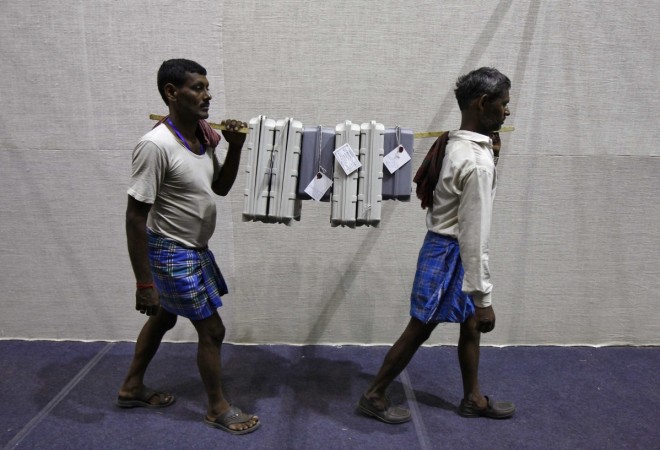 India is on the cusp of political change that is widely expected to infuse a new life into an economy that is struggling to break away from a tale of weak growth and high inflation.
But data due this week will probably show no improvement yet to its economic woes, as industrial output is expected to contract for a second straight month while inflation is forecast to pick up.
Asia's third-largest economy is battling the worst slowdown since the 1980s as GDP growth has almost halved to under 5 percent in the past two years.
Output from mines, utilities and factories in March probably fell 1.5 percent from a year earlier, according to a Reuters poll of economists.
If the forecast materialises, it would mark the fifth fall in industrial production in six months, reflecting the rut gripping the economy from weak consumer and investment demand.
Meanwhile, consumer inflation is estimated to have quickened to 8.48 percent in April from 8.31 percent in March, the poll showed. Wholesale prices for the month are forecast to rise 5.73 percent compared with a 5.70 percent annual gain in March.
The statistics ministry will release industrial production and consumer inflation data at 5:30 p.m. on Monday. The commerce and industry ministry is due to release wholesale price figures on Thursday at around 12 p.m.
OPTIMISM FOR TURNAROUND
Policymakers are hopeful of an economic rebound in the fiscal year that began in April, but much will depend upon the pace of reforms after a new government takes over in New Delhi following the conclusion of ongoing national elections on May 16.
"We concur that the economy has bottomed out in recent quarters and a right mix of policy coordination and governance should be able to kick-start the growth cycle," Singapore-based brokerage DBS said in a note last week.
"While the cycle could benefit from a stable government, the (growth) upturn will be gradual."
High inflation and weak growth have dogged much of outgoing Prime Minister Manmohan Singh's second term, damaging the prospects of his Congress party at the hustings and swelling public support for pro-business opposition leader Narendra Modi.
Modi's promise to fix an ailing economy has made him the prime ministerial front-runner. The Nifty has surged 17 percent since the Bharatiya Janata Party (BJP) leader officially joined the fray for the country's top job on hopes he would script an economic revival.
But that depends on his success in pushing up capital investment growth from an eleven-year low and cooling retail inflation that been averaging nearly 10 percent for the past two years, way above the central bank's comfort zone.
"The promise of reform needs to match with improvement on the ground to sustain that optimism (in financial markets)," wrote DBS' economist Radhika Rao.
CHALLENGES
While many analysts are hoping for a rapid implementation of pending labour, fiscal and tax reforms for a faster economic recovery, some say high corporate leverage and rising bad loans at Indian banks will hamper the pace of recovery.
Stressed loans in India - those categorised as bad and restructured - total $100 billion, or about 10 percent of all loans. Debt-equity ratio of Indian firms has hit a two-decade high of 97.9 percent, Nomura said.
Compounding economic worries are the prospects of a below-average monsoon this summer, which could hit farm output and fuel inflation, leaving the central bank with little room to support the economy.
In 2009, patchy monsoon rains led to India's worst drought in nearly four decades, resulting in runaway food inflation.