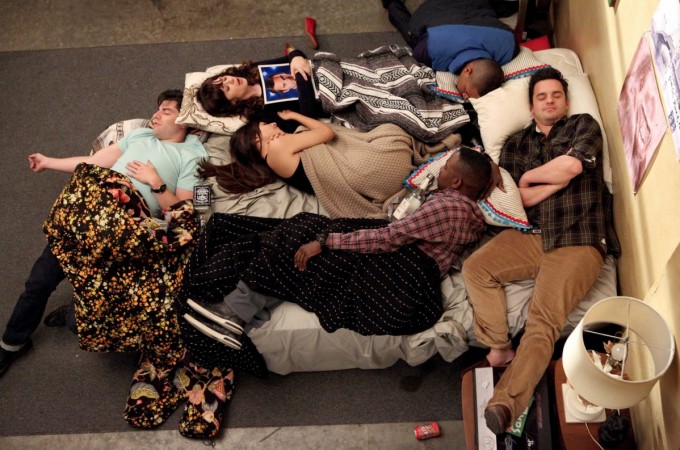 As of season 4, episode 17 of FOX comedy show "New Girl", there are three lonely, single adults hanging around the loft, and any of them could make the mistake of going home with a stranger and taking part in the great American tradition of taking a walk of shame in episode 18 to be aired on 3 March, aptly titled "Walk of Shame".
"Spiderhunt" established that Schmidt (Max Greenfield), is very much involved with the cold and manipulative councilwoman Fawn Moscato (Zoe Lister-Jones), while Coach (Damon Wayans, Jr.), is actively pursuing a relationship with May (Meaghan Rath), a sophisticated woman who makes him work hard before letting him take her out on a date.
Winston (Lamorne Morris) is getting adapted to the life of a police officer and does not seem to be interested in dating, while Jess, Nick and Cece are painfully single.
While fans are rooting to see Nick (Jake Johnson) – who was recently dumped by his girlfriend Kai (Greta Lee) for being "too ambitious" – and Jess (Zooey Dechanel) back together, it is safe to assume that such a thing is unlikely to happen, at least not in "Walk of Shame".
Jess, who recently broke up with her former colleague Ryan Geauxinue (Julian Morris), and Cece (Hannah Simone), who still has feelings for her former lover Schmidt, are possibly the ones who spend a night they would rather forget, in a stranger's apartment.
The trailer for episode 18 shows the two of them braving sunlight while taking the "walk of shame".
The trailer also suggests that Jess may have spent the night with guest star Josh Gad, who gave voice to Olaf in "Frozen". A night with his character in "New Girl" definitely seems like one most girls would want to forget. Pointing at the pillow Jess is using, he says, "This pillow over here.. I always use it in between my legs".
As Jess deals with making a way out of her one-night stand's home, Coach is worried about introducing Nick and Winston to his his sophisticated new girlfriend May.
Watch the trailer for "Walk of Shame":