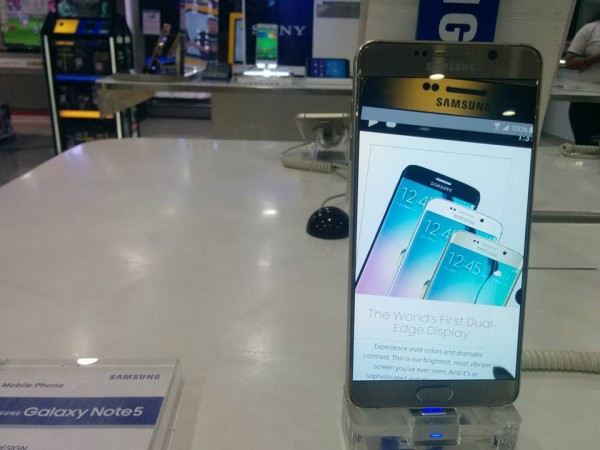 Not much has been heard of Samsung's upcoming Galaxy Note 6 apart from leaks in bits, but now, it's been claimed the upcoming next-generation device will have a few a shock elements, including a downgraded camera.
Samsung Galaxy Note 6 is expected to be released in August, by the time its predecessor, the Galaxy Note 5, completes a year cycle in the market. It is also reported that it could be launched along with the Galaxy S7 edge+.
The South Korean electronics giant is tight-lipped on its upcoming Note device, but Weibo user HG_VISION (via PhoneArena) has claimed in a post the Galaxy Note 6 will sport a 5.8-inch Slim RGB AMOLED display with 2560x1440 pixel resolution, contradicting earlier reports that it would have a 5.7-inch screen. It went on to say the device will come packed with 64GB/128GB internal memory, 6GB LPDDR4 High-Speed RAM, 1,024 pressure points and a 12MP camera with "Super OIS Plus".
Looking at the leaked specifications, you won't see much of a difference from a 5.8-inch screen as it is just 0.1 inch bigger than 5.7-inch screen seen in the Galaxy Note 5. There were reports that the upcoming device would have a microSD card slot, but that may not happen if it comes with 64GB/128GB internal storage. The 6GB RAM is going to be a huge upgrade from its predecessor, which had 4GB RAM.
Interestingly, the leak is in tune with earlier reports that the Galaxy Note 6 would come with a downgraded camera. It had claimed it would house a 12MP camera compared to the 16MP camera seen in the Note 5. However, it may be noted that it's the sensor and not the pixel-count that determines the quality of a picture. ValueWalk reported Samsung would decrease camera megapixel of the Galaxy Note 6 and introduce Vivid Photo or Timeless Photo technology instead.