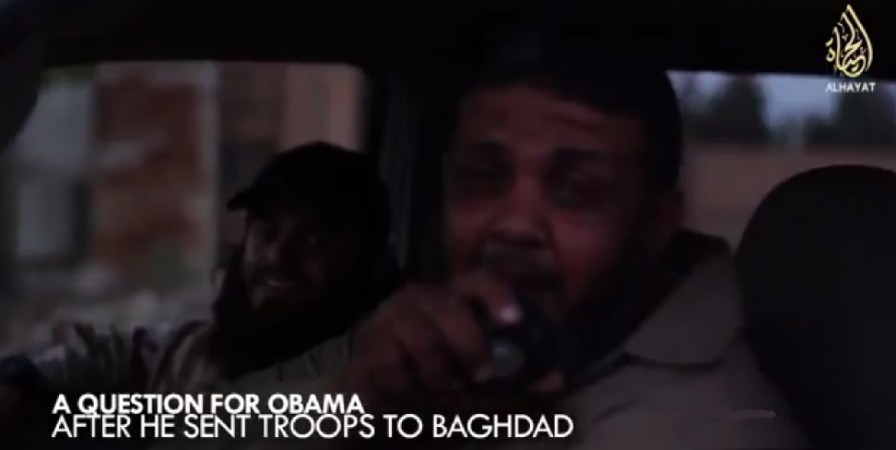 Sunday marked the start of Ramadan and Islamic militant group ISIS chose that day to declare its caliphate in Iraq and Syria. With the re-branded name Islamic State, the group also released an English video, starring a Chilean jihadist, mocking Obama and the US troops.
The Islamic State of Iraq and Syria's (ISIS) latest video showcases the sophisticated jihadist propaganda team, which is working along with the terrorist group.
Its English-language outfit, Al-Hayat Media, released the video featuring a jihadist from Chile promoting the group.
The video titled "The End of Sykes-Picot" - which is a reference to the secret agreement made between UK and France before World War I to divide the Arab provinces of the Ottoman Empire into areas of future British and French control or influence - has Chilean jihadist Abu Safiyya giving viewers a tour of the Iraq-Syria border under ISIS control.
The video, shot in the border of Iraq and Syria - which Safiyaa addresses as "Sham", mocks the Iraqi government and calls the Shias and other Islamic sects 'cowards' and Satan-worshipers. He is also seen stamping on the Iraqi flag-board and poking fun at the abandoned uniforms of Iraqi soldiers.
"Inshallah we will break the barriers of Iraq, Jordan, Lebanon," Safiyya says while walking over the border of Iraq and Syria. "We do not recognize it and we will never recognize it," he adds as he crosses the border.
Safiyyah tours through the abandoned border patrol checkpoint.
Safiyyah then introduces the viewers to captured Iraqi soldiers and border patrol officers. "Look at these idiots," he snarls at them, and curses them for "worshiping Lucifer".
At the end of the video, he takes the viewers to a captured Iraqi vehicle, in which he drives off to a distant place. The ISIS militants are then seen blowing up an abandoned building, following which a jihadist looks at the camera and says: "Obama, did you prepare enough diapers for your soldiers?"
The high production value of the video makes it clear that it is a propaganda video meant to attract Western recruits. The video had an equally appealing theme song. No wonder, the group has been able to amass fighters from the world over, including Belgium, the UK and Chile to name a few.