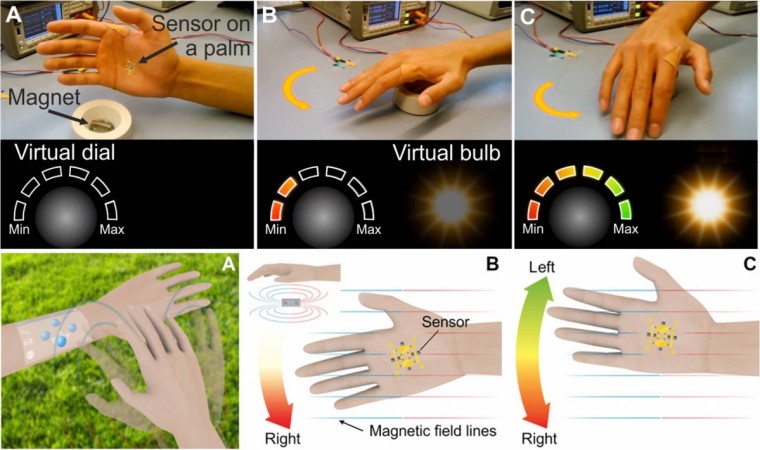 A team of scientists has developed a new wearable technology that can revolutionise the future of virtual reality (VR). The physicists at German Helmholtz-Zentrum Dresden-Rossendorf (HZDR) have come up with an ultrathin electronic skin that enables a touchless manipulation of virtual and physical objects by interacting with magnetic fields.
Although the e-skin is a soft and bendable film that sticks to the palm of the hand like a tattoo, the sensors within the foil provide people with a "sixth sense" for magnetic fields. These sensors interact with a nearby magnet, and depending on the angle of the user's hand, it produces different levels of voltage. The scientists have detailed their work in a study, published in the journal Science Advances.
To control what happens at each angle of the sensor, the researchers also programmed software, allowing the motion of the user's hand to dictate specific commands. For example, users wearing the so-called e-skin can turn on or off virtual light switches and type symbols on a virtual keyboard, The Verge reported.
The researchers working on the technology expect it to enable users in the future to control everyday objects and appliances not only in the physical world, but also in augmented or virtual reality with only gestures, "similar to how we use a smartphone now."
"Our electronic skin traces the movement of a hand, for example, by changing its position with respect to the external magnetic field of a permanent magnet," Gilbert Santiago Cañón Bermúdez of HZDR, the lead author of the study, said in a statement. "This not only means that we can digitize its rotations and translate them to the virtual world but also even influence objects there."
The current VR systems require "a load of cameras and accelerometers and, on the other hand, fast image data processing. However, usually the resolution is not sufficient to reconstruct fine movements of the fingers. Moreover, because they are so bulky, the standard gloves and glasses hamper the experience of virtual reality," Denys Makarov of the Institute of Ion Beam Physics and Materials Research at HZDR said in the statement.
The new e-skin, however, could be a better way of connecting human and machine because it's not even three micrometers thick, and can easily be worn.
Cañón Bermúdez also told The Verge that the newly developed e-skin is not meant to replace existing VR, but will be more like a complement to it by adding more detail. The researchers are currently using magnetic fields the size of fridge magnets, but their next goal is to work on much smaller fields for more detailed manipulations.