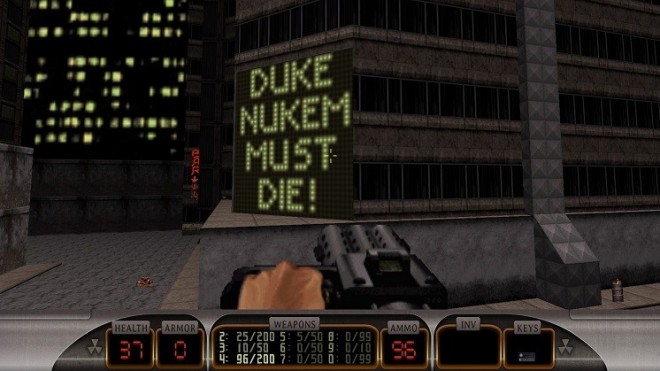 A new Duke Nukem title is likely to be revealed by the end of February, according to rumors unearthed by NeoGAF. The new Duke Nukem will be a top-down action RPG and will be powered by Unreal Engine.
The game will be titled Nukem: Mass Destruction and will be developed by Interceptor Entertainment, which was also behind the remake of Duke Nukem 3D. But unfortunately, this free title was held up by Gearbox Software and never released. Interceptor Entertainment was also behind the reimagining of Rise of the Triad.
A teaser website was also launched for the upcoming game, however, it is currently down for maintenance. A teaser image, which shows a bubble gum pack named 'Kick-Ass' that is empty was also released. This is related to Duke Nukem's best lines, "It's time to kick ass and chew bubble gum, and I'm all out of gum".
"I'm also personally tired of Pigcops, Turd Jokes, and a Goofy Duke Nukem.I would love to see a Duke Nukem game, taken in a completely new direction. A way more serious and 'Badass' Duke, with an epic plot. Something that really brings back Duke as an Action Hero," said Frederik Schreiber, CEO of Interceptor Entertainment on 28 November 2013, DSO Gaming reported.
"That reminds me of how tired I am of strippers, babes etc. in Duke Nukem games, which only degrades Duke's intelligence even more (there is nothing wrong with Duke Liking strippers and babes, but it shouldn't be the main plot of a game). Give us a Duke game without strippers, a great sinister villain than can break Duke (Think Bane from DK:Rising), a slightly older, and way more badass/gritty Duke, and a galactic plotline that can be taken seriously, and I'm Sold!" he added.
However, there are no details of the new game, apart from the supposed name and what engine the game will be based on.