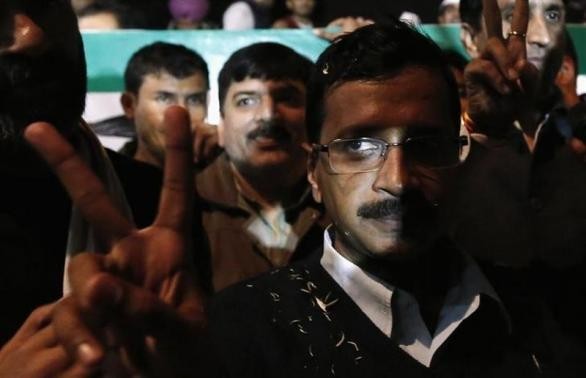 Singing the rhythm of brotherhood and anti-corruption, Arvind Kejriwal of the one-year-old Aam Aadmi Party (AAP) took oath as the new and youngest Chief Minister of national capital Delhi on Saturday.
While the newly anointed Delhi CM was thronged by nearly 90,000 people at the Ramlila Maidan where he took the historic oath, Kejriwal is set to lead the first cabinet meeting at the Delhi Secretariat on the same day at 2 pm after paying homage at Rajghat.
Calling it the 'second war of Independence', the youngest Delhi CM said, "It is the people of Delhi who created history, not me. I am just an aam aadmi."
During his first speech as Delhi CM, Kejriwal said, "We have shown that one can contest and win elections honestly. This is a miracle we achieved, I want to thank god...Anna ji used to say politics is dirty but I told him that we have to step in that muck to change it. We should not turn arrogant, we rose to break arrogance of parties, tomorrow there should not be another party to break our arrogance."
He assured his supporters to cleanse politics in India. He also announced that his party will launch a helpline within next two days for those who become victim of corruption from bureaucrats under his watch.
Kejriwal also mourned the death of AAP leader Santosh Koli, who died due to injuries received in a road accident in August. "Today wherever she is, she must be happy that her martyrdom is not wasted," he said.
Along with Kejriwal, AAP MLAs Manish Sisodia, Somnath Bharti, Satyendra Jain, Rakhi Birla and Girish Soni also took oath at Ramlila ground.
"I have the portfolios of water, power, higher education, home, finance, services and vigilance portfolios under me," Kejriwal announced later. AAP MLA Girish Soni will handle development and employment, MLA Somnath Bharti will take care of Tourism, Law and Administrative reforms.
MLA Rakhi is been handed Woman and Child Welfare portfolio. AAP MLA and close aide of Kejriwal, Manish Sisodia has portfoilios of Education, Revenue, PWD, and urban development under him. "Saurabh Bhardwaj will handle food supply, and transport," Kejriwal said.
Below are the latest reactions on Arvind Kejriwal anointed as the new Delhi Chief Minister
Anna hazare, Kejriwal's mentor and social activist: "We have to serve the people and nation. A deed without thinking of its benefit is the pure service. What Arvind is doing as Aam Aadmi is what politicians should do for the nation. I believe that he will do good."
Rajnath Singh, BJP president: "Congratulations to Arvind Kejriwal, he should provide a stable govt in Delhi."
Yogendra Yadav, AAP leader: "Politics is rarely sacred. I saw a glimpse of that at Ramlila Ground. Exhilarating. Also Scary!"
Ranjana Kumari, author and activist for women's rights: "Congratulations for creating New politics .Will Women be equal partners? or will remain in the margins of political space like always."
Sushma Swaraj, Leader of Opposition (Lok Sabha): "Congratulations to Shri Arvind Kejriwal on taking over as Chief Minister of Delhi."
Kiran Bedi, social activist and former IPS officer: "May God protect Arvind, his team and Aam Admi who has driven the change in value systems in politics. Good for the entire country!"
Naveen Jindal, Congress MP: "Congratulations and best wishes to #ArvindKejriwal"
Vijay Goel, Delhi BJP leader: "I congratulate Aam Aadmi Party for forming its government in Delhi. Hope they will fulfill the expectations of Delhi Janata. Best wishes."
Shakeel Ahmed, Congress leader: "We congratulate Arvind Kejriwal. Hope he rises to the expectations of the people."
Sushil Kumar Modi , BJP leader : "Arvind Kejriwal & @Narendramodi has created same type of hysteria,frenzy,expectations as was visible after dislodging of Cong after Emergency. Congratulation to Arvind Kejriwal for creating history! Such mood are rarely seen in Indian politics."
Dr. Harshvardhan, BJP leader: "I pray to God that he(Kejriwal) is successful. He should fulfill people's wishes."
N Chandrababu Naidu, Telugu Desam Party: "Best of luck to Delhi Chief Minister @ArvindKejriwal."
Giriraj Singh, BJP leader: "Congratulations to @ArvindKejriwal ..wish him all the very best to his new responsibility"