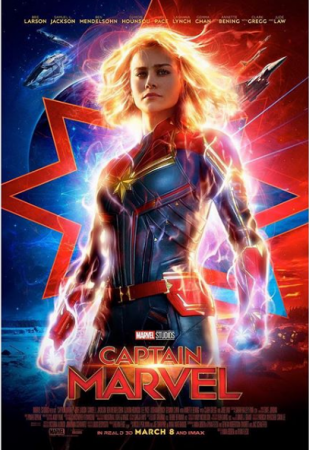 Captain Marvel sure looks powerful. Marvel just released a new look poster for the upcoming superhero film Captain Marvel. The studio also indicated that the trailer will drop tomorrow.
The poster features Brie Larson as the titular character striking the classic superhero hands on hips pose. There are fighter jets on one half, referencing Carol Danvers' past as a United States Air Force pilot, and futuristic ships on the other half, likely belonging to the Kree (or possibly the Skrulls).
It is being reported that the next trailer for Captain Marvel will debut on ESPN's Monday Night Football on December 3 during the halftime of the Redskins/Eagles NFL game. The game itself begins at 5:15 pm PT/8:15 pm ET.
The movie is set to be a prequel, so we will get to see SHIELD in its formative years and younger versions of Samuel L. Jackson's Nick Fury as well as fan favourite Clark Gregg as agent Phil Coulson. Now the MCU has not overtly addressed Phil Coulson's presence after his death in the first Avengers movie, so it will be great to see him back on the big screen. Brie Larson is looking good as Carol Danvers and we have to say that we completely agree with Larson, who has gone on record saying she would love to play Samus Aran, the protagonist in the Metroid video games. If anyone can play Samus Aran, we think the actress that can bring Marvel to the big screen is a good choice if not a great one.
Captain Marvel is arguably the most powerful character in the MCU, we can't wait to see her big screen debut.