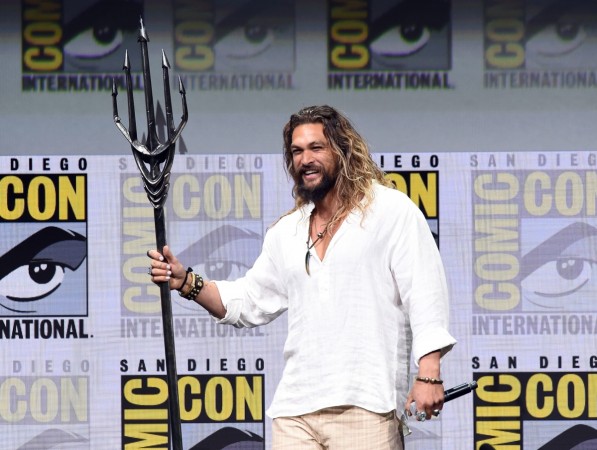 Though Aquaman Jason Momoa and Mera actress Amber Heard will debut their DC roles in Justice League in about a month, the two actors are working hard to wrap their solo venture, Aquaman. The film is currently reaching the end of production and over the past few months, a few photos and videos from the sets were shared online.
Now, another video from the sets has been posted on YouTube featuring Mera. Fans will remember that a few photos featuring Mera were earlier leaked online showing her jumping from roof to roof in a chase scene. The new video appears to be from the same scene.
Also Read: Aquaman Jason Momoa reveals plot spoilers; clip from teaser launch released [VIDEO]
The video, now taken down by Warner Bros due to copyrights issue, showed Heard's stunt double Joanna Bennett being chased down.
The scene, as described by Comic Book, sees the character perform multiple passes over rooftops in Sicily as she is being chased by two Atlantean Commandos. The almost three-minute video showed the stunt double jumping from one roof to another before ducking to a lower roof.
As for the Atlantean Commandos, it is reported that they were dressed in armour from head-to-toe and possessed weapons in their hands. Though, it still remains unclear as to why Mera was being chased.
Many speculations suggest that since it is the Atlantean soldiers who are chasing her, Orm could be behind the intense chase and hunt.
According to Pursue News, Aquaman is slated to complete shooting this month. The second unit – which is responsible for the establishing shots, stunts and other similar material – will finish filming by October 10 and the complete production will wrap up by October 20.
Following which, James Wan and his team will come together for the post-production and reshoot phase. The filming of Aquaman particularly for a little more difficult since Wan chose to stay real with the visuals and shot many scenes underwater than depending on VFX.
The director, during the early filming stage, revealed that air bubbles caused while delivering dialogues underwater was one of the major hindrance during shooting.
Aquaman is slated for release in December next year.