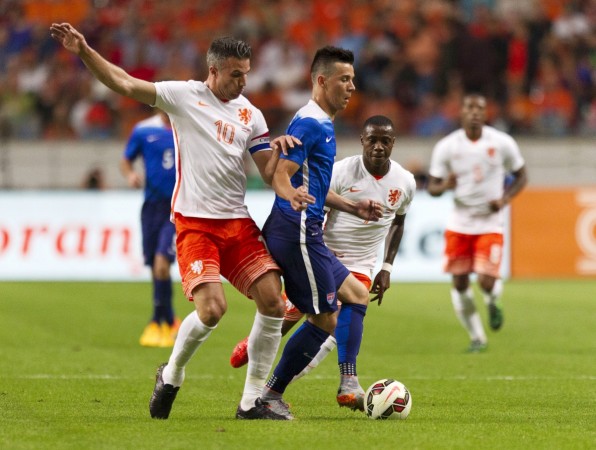 It is time for The Netherlands to pull their socks up as they are struggling in the third position of the Euro 2016 qualifiers in Group A. So, when they face Latvia on Friday at Skonto Stadions, they have to turn triumphant and show the world that they are one of the strongest teams in Europe.
The Netherlands, overall in the qualifiers, have been a major disappointment with two losses, two wins and a draw in their five matches. They are a team capable of better results.
When they were pitted in Group A against the likes of Czech Republic, Iceland and Turkey, it was a tough group, but they were expected to be in a better position after five matches.
Hence, the Netherlands are in a desperate situation, where they have to defeat Latvia, as it will allow them to close the gap on the leaders, Czech Republic, who play Iceland on Friday as well.
Loss against Latvia will make their campaign a disaster, especially if Czech Republic defeat Iceland, which could stretch the gap to nine points, which the Netherlands do not want.
They have lost against Iceland and Czech Republic, which they will want to forget and remember the major highlights in the qualifiers as they defeated Latvia 6-0 when the teams met last.
But, things should not be too difficult for the Netherlands this time as they can put up another impressive performance against Latvia, who have struggled without a single win in their campaign.
Latvia will be eager to win at least one game and with the Netherlands not in the best of form and Latvia playing in front of their vocal fans, they might fancy their first win of their campaign. But, if the Dutch players get their act together, it is going to be a long night for the Baltic team.
There is no doubt about the quality in the Dutch squad with players such as Huntelaar, Memphis Depay, Robin van Persie amongst others. But, the Netherlands have lacked consistency, which seems to have been a major problem, which was on display in their friendly against the US of late.
The Dutch were leading 3-1 at one time, but allowed the US to come back into the game and lost the match embarrassingly, 4-3.
Such performance against Latvia may cost them a place in Euro 2016.
Where to Watch Live
The Euro qualifiers clash between the Netherlands and Latvia is scheduled for 8:45pm local time (12:15am IST, 2:45pm ET, 7:45pm) start with live coverage on Sony Six HD with online option on livsports.
Viewers in the US can watch it on Fox Sports with live streaming option on Fox Sports2 Go, while viewers in the US can catch the action live on Sky Sports Red Button.
Football fans in the Netherlands and Latvia can watch it live on SBS 6 and LTV7 Latvia respectively.