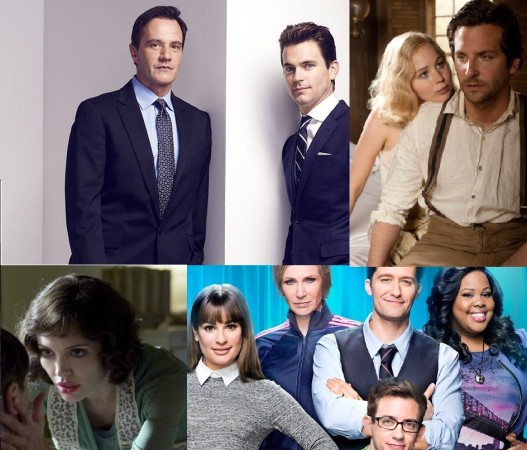 All you Netflix fans, get ready to check out what's latest on the instant streaming list this July. The provider has added a lot of brand new content and has thus, removed many old titles. This month's new titles include names like "Glee", "White Collar", "Marvel's Hulk and Agents of S.M.A.S.H", "Saw V" and "Changeling" among others.
Like every month, even this time around Netflix has added brand new content for instant streaming. July 2015 Netflix library boasts a huge line-up of original content along with a host of other popular TV shows and movies.
Netflix has already pumped in a lot of original content with "The Unbreakable Kimmy", "Schmidt", "Marvel's Daredevil" and "Sense8" during spring. And it continues to do so with the release of the much-anticipated show "Wet Hot American Summer: First Day of Camp", on 31 July, an eight-episode prequel to the 2001 cult comedy.
And obviously, you've got a whole bunch of new movies and TV shows. If you love action then wait for "Underworld: Evolution", if adventure is what you are looking for, then "Penguins of Madagascar" is your escape and all that you want is to romance telly, then "Glee" is coming to woo you.
Here's a list of what's on and what's out:
What's On:
Glee, Season 6: This is the final season of the show, which revolves around a group of ambitious misfits, who join a glee club, where they find strength, acceptance and their voice, while working to pursue dreams of their own.
White Collar, Season 6: Starring the most popular Matt Bomer, this show is about a white collar criminal, who agrees to help the FBI catch other white collar criminals using his expertise as an art and securities thief.
Changeling: Starring Angelina Jolie, this Oscar-nominated film is directed by Clint Eastwood. It narrates a story of a grief-stricken mother who refuses to accept the LAPD's attempts to foist off an imposter brat as her missing child.
Serena: The drama starring Bradley Cooper and Jennifer Lawrence revolves around owner of a timber empire, George Pemberton, whose business becomes complicated after he married Serena.
The Complete List:
1 July
Alive (1993)
An Honest Liar (2014)
Bad Hair Day (2015)
Bionicle: The Legend Reborn (2009)
Bulworth (1998)
Dave Attel: Road Work (2014)
Death in Paradise (Season 3)
Grandma's Boy (2006)
Hostage (2005)
Invizimals: The Alliance Files
La Reina del Sur
Octonauts (Season 3)
Piglet's Big Movie (2003)
El Senor de los Cielos (Seasons 1-2)
Saw V (2008)
Set Fire to the Stars (2014)
Shooting Fish (1997)
The Secret of Roan Inish (1994)
Underworld: Evolution (2006)
Velvet (Season 2)
3 July
Knights of Sidonia (Season 2)
4 July
Faults (2014)
Hell on Wheels (Season 4)
White Collar (Season 6)
7 July
Monster High: Scaris, City of Frights (2013)
Witches of East End (Season 2)
9 July
Monsters: The Dark Continent (2014)
Serena (2014)
10 July
Chris Tucker Live (2015)
Violetta (Seasons 1-2)
14 July
Bad Ink (Season 1)
Bible Secrets Revealed (Season 1)
Creep (2014)
Goodbye To All That (2014)
Lost Soul: The Doomed Journey of Richard Stanleys Island of Dr. Moreau (2014)
Preachers' Daughters (Season 2)
Storage Wars: Texas (Season 1)
The Killer Speaks (Season 2)
15 July
Da Sweet Blood of Jesus (2014)
H20 Mermaid Adventures (five new episodes)
Penguins of Madagascar (2014)
The Physician (2014)
16 July
Changeling (2008)
17 July
BoJack Horseman (Season 2)
The Human Experiment (2013)
Tig (2015)
18 July
Glee (Season 6)
Java Heat (2013)
23 July
Teacher of the Year (2014)
25 July
The Guest (2014)
28 July
Comet (2014)
Marvel's Hulk and the Agents of S.M.A.S.H. (Season 2)
30 July
Almost Mercy (2015)
My Little Pony: Friendship is Magic (Season 5)
The Wrecking Crew (2008)
31 July
Turbo Fast (Season 2)
Wet Hot American Summer: First Day of Camp (2015)
What's Out: Catch the below list of movies and TV shows before they are pulled off.
1 July
Beauty and the Beast (Seasons 1-3)
Big Fish (2003)
Big Top Pee-wee (1988)
Bratz: Fashion Pixiez (2007)
Bratz Kidz: Sleep-Over Adventure (2007)
Bowling for Columbine (2002)
Cast Away (2000)
Cheech & Chong's Next Movie (1980)
Descent (2007)
Fat, Sick & Nearly Dead (2010)
Fear and Loathing in Las Vegas (1998)
Four Weddings and a Funeral (1994)
Fried Green Tomatoes (1991)
Harper's Island (The Complete Series)
Hawaii Five-O (Seasons 1-10)
Jack Frost (1997)
Knight Rider (Seasons 1-4)
Louis C.K.: Hilarious (2009)
Melrose Place 2.0
Melrose Place (Seasons 1-7)
Mission: Impossible (Seasons 1-7)
Moonstruck (1987)
Natural Born Killers: Director's Cut (1994)
Patton (1970)
Racing Stripes (2005)
Seven Years in Tibet (1997)
She's All That (1999)
Sky Captain and the World of Tomorrow (2004)
Space Cowboys (2000)
Stephen King's The Stand (1994)
Super Troopers (2001)
Terminator 2: Judgment Day (1991)
The Adventures of Young Indiana Jones (Vol. 1-3)
The Care Bears Movie (1985)
The Fly 2 (1989)
The Langoliers (1995)
The Last Samurai (2003)
The Manchurian Candidate (2004)
The Muppets Take Manhattan (1984)
Three Kings (1999)
Trailer Park Boys: The Movie (2006)
Wings (Seasons 1-8)
X-Men: Evolution (Season 1)
3 July
Myth Hunters (Series 1)
4 July
Crouching Tiger, Hidden Dragon (2000)
6 July
The Last Stand (2013)
14 July
Shipping Wars (Season 1-3)
Wahlburgers (Season 1)
15 July
Dragnet (Seasons 1-4)
Miami Vice (Seasons 1-5)
25 July
The Inbetweeners (Season 3)
30 July
Leave It to Beaver (Seasons 1-6)
Magnum P.I. (Seasons 1-8)