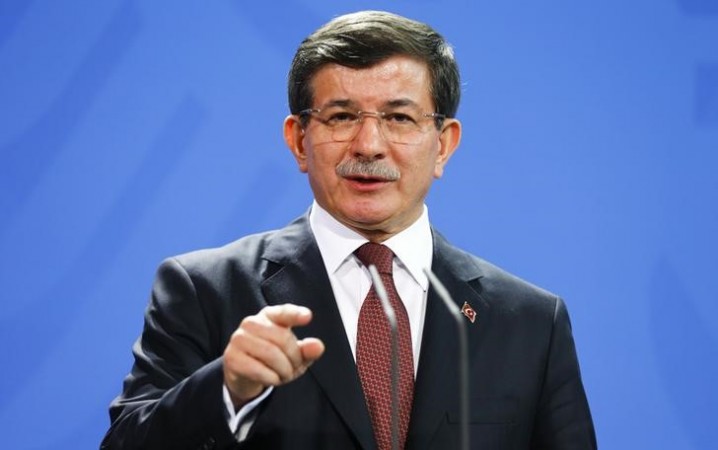 Turkish Prime Minister Ahmet Davutoglu on Thursday slammed Israeli PM Benjamin Netanyahu, accusing him of committing "crimes against humanity". Davutoglu went ahead to liken Netanyahu to the gunmen who carried out the dastardly Charlie Hebdo and kosher store attacks in Paris.
The Turkish leader was making those comments in reference to Netanyahu's presence at the terror solidarity march in Paris after the attacks, which according to him was a sign of hypocrisy.
"Netanyahu has committed crimes against humanity just like the terrorists who carried out the Paris massacre," Davutoglu told reports in Ankara in a televised comment.
The comments came days after President Recep Tayyip Erdogan too slammed Netanyhu for "daring" to attend the rally in Paris which was attended by millions of people, including many high profile world leaders.
A statement from the office of President Erdogan said that Netanyahu managed to stage a "miserable political show" because he attend the Paris rally only for his "own political purposes" and did nothing more than exploding an event that was meant to express solidarity and peace.
"The Israeli government should abandon its aggressive and racist policies, instead of attacking others under the pretext of anti-Semitism," Presidential spokesman Ibrahim Kalin said as noted by AFP.
Erdogan also appeared this week with Palestinian leader Mahmoud Abbas in Ankara setting up the latest war of words with Israel and criticising Netanyahu.
"What do you think of Netanyahu, who has been waging state terror by massacring 2,500 people in Gaza, waving hands?" Erdogan said referring to his hand waving during the rally in Paris, the New York Times noted.
"He waves as if people in a grandstand have been waiting to accept him in excitement. I, of course, find it hard to understand how he dared to go there. First, give an account of the children, the women that you have massacred."
In response to the comments, Netanyahu said that he is yet to hear international condemnation for the words coming from Turkey, which he termed as "intolerable".
"If the international community does not take a clearer position on the side of those fighting terror then the wave of attacks risks continuing," he said in Jerusalem according to AFP.